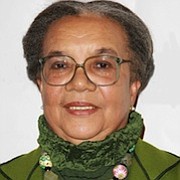 Stories this photo appears in:

During this holy season of Lent in the Christian calendar it's time to reflect and act to help the most vulnerable in our midst. With harsh assaults on undocumented immigrants and refugees who must fear every knock on their door, many American citizen children are afraid to go to school, afraid of being bullied, and afraid to leave their parents who might be arrested at any moment.

"I believe that the odds were stacked against me from the day I was born. She was never really a mother to me. She was never around," says Bethany, a Washington, D.C. student born to a mother struggling with addiction. Bethany became involved in the child welfare system at age four: "I remember they took me away, and then I got to shower for the first time in months, because at the time we were living in an abandoned apartment. It felt wonderful!

After the new administration's first Black History Month event included a general reference to 19th century lion Frederick Douglass as "somebody who's done an amazing job and is being recognized more and more," Frederick Douglass's descendants jumped in with their own clarification

We African American Women seldom do just what we want to do, but always what we have to do. I am grateful to have been in a time and place where I could be a part of what was needed.

"My mother always said, 'Learn what you can learn for yourself, and then share your knowledge with others.' My goal now is to advocate for equality and help others in need. Perhaps I have this opportunity because the purpose of my life has been to open the door for others." At a time when the national conversation is focused on building walls and closing doors against immigrants, Carlos is an immigrant with another goal.
"I had never been to Mexico. We left with just one trunk full of belongings. No furniture. A few metal cooking utensils. A small ceramic pitcher, because it reminded me of my mother." – Emilia Castañeda, born in the U.S.A., deported from Los Angeles County

Human progress is neither automatic nor inevitable. Even a superficial look at history reveals that no social advance rolls in on the wheels of inevitability. Every step towards the goal of justice requires sacrifice, suffering, and struggle . . . This is no time for apathy or complacency. This is a time for vigorous and positive action. - Dr. Martin Luther King, Jr.