Trump Talk with Russians 'Wholly Appropriate,' Adviser Says
By Vivian Salama and Julie Pace / Associated Press | 5/17/2017, noon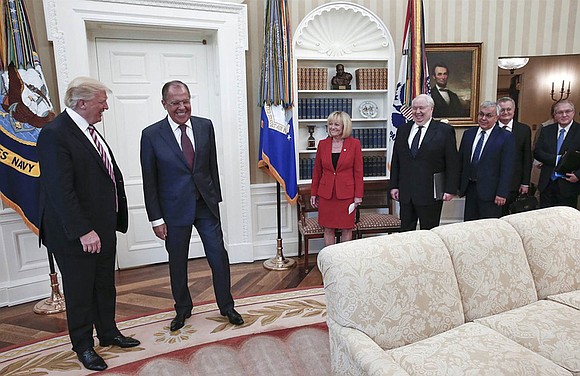 He cast some of Trump's revelations as information that was available from publicly available "open-source reporting" and added that the president did not know the precise source of the intelligence he had shared, suggesting that Trump could not have compromised confidential sources.
The Kremlin dismissed the reports of Trump's actions as "complete nonsense."
On Capitol Hill, Democrats and Republicans alike expressed concern. Sen. John McCain, R-Ariz., called the reports "deeply disturbing" and said they could affect the willingness of U.S. allies and partners to share intelligence with the U.S.
Senate Majority Leader Mitch McConnell called the intelligence uproar a distraction from GOP priorities such as tax reform and replacing the health care law.
"I think we could do with a little less drama from the White House on a lot of things so that we can focus on our agenda," he told Bloomberg Business.
Minority Leader Chuck Schumer, D-N.Y., called for Congress to have immediate access to a transcript of Trump's meeting with the Russians, saying that if Trump refuses, Americans will doubt that their president is capable of safeguarding critical secrets.
Trump ignored reporters' questions about whether he disclosed classified information. Following a meeting with Turkish President Recep Tayyip Erdogan, Trump said only that his meeting last week with Russian Foreign Minister Sergey Lavrov was "very, very successful."
Asked why the NSA and CIA were put on notice if the revelations were not problematic, McMaster cast the
notification as being provided "from an overabundance of caution."
The disclosure put a source of intelligence on the Islamic State at risk, according to The Washington Post, which first reported the disclosure on Monday.
CIA Director Mike Pompeo was to brief members of the House intelligence committee later Tuesday.
On Monday, McMaster told reporters: "The president and the foreign minister reviewed a range of common threats to our two countries including threats to civil aviation. At no time, at no time were intelligence sources or methods discussed and the president did not disclose any military operations that were not already publicly known."
The revelations could further damage Trump's already fraught relationship with U.S. intelligence agencies. He's openly questioned the competency of intelligence officials and challenged their high-confidence assessment that Russia meddled in last year's presidential election to help him win. His criticism has been followed by a steady stream of leaks to the media that have been damaging to Trump and exposed an FBI investigation into his associates' possible ties to Russia.
__
Associated Press writers Deb Riechmann, Nancy Benac, Catherine Lucey, Jill Colvin and Ken Thomas contributed to this report from Washington. AP writer Paisley Dodds contributed from London. AP writer Jan M. Olsen also contributed