The NBA Western Conference Finals
Gary George / IVN Sports Writer | 5/17/2017, noon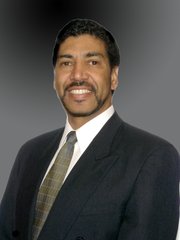 Nationwide--On Sunday, the Golden State Warriors defeated the visiting San Antonio Spurs in Game 1 of the Western Conference Finals at Oracle Arena.
The Warriors managed to pull out a 113 - 111 comeback victory after trailing by 25 points in the contest. The Spurs were in control of the contest early with Kawhi Leonard leading the way with 26 points. However, after a third quarter ankle injury, Leonard was out for the remainder of the game and is not expected to play in Game 2 on Tuesday. He suffered the injury after shooting a jumper and coming down on the foot of Warriors' center, Zaza Pachulia. Without the offense and defense of Leonard, the Warriors hit the full speed ahead throttle to overtake the Spurs in the final minutes of the game. The performance by Stephen Curry with 40 points, and Kevin Durant with 34 points was what propelled the Warriors to victory. The Spurs were led by LaMarcus Aldridge with 28 points. After the game, Spurs' coach Gregg Popovich said this about the play of Pachulia, "The two-step lead with your foot closeout is not appropriate.
It's dangerous, it's unsportsmanlike, it's just not what anybody does to anybody else. And this particular individual has a history with that kind of action." That was the major discussion on a Monday afternoon conference call led ESPN basketball analyst, Jalen Rose. The best-of-seven game series will resume on Tuesday, and Pachulia was not penalized by the NBA office. Without Leonard and injured point guard Tony Parker, coach Popovich will have to have a total team performance to conqueror the Warriors. They did it against the Houston Rockets in Game 6 without Leonard, maybe they can do it against the Warriors. Stay tuned!