This Black Lives Matter Activist-Turned-Politician, Khalid Kamau, Thinks We Can Learn Something From the GOP
Torraine Walker / The Root | 5/17/2017, midnight
In Front Lines, Fusion speaks to activists leading the charge in all kinds of ways.
Khalid Kamau, an Atlanta native, is one of a number of activists making the transition from street protest to political office: When he was sworn in as a city council member for the newly incorporated city of South Fulton, a suburban area outside of Atlanta, he wore a Black Lives Matter pin on his la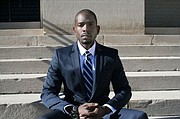 pel and placed his hand on a copy of bell hooks' Salvation.
A member of the Democratic Socialists of America who campaigned for Bernie Sanders and organized with Atlanta's BLM chapter, Kamau sees his political career as parallel to those of civil rights-era figures like John Lewis and Andy Young.
"My role is to explain what goes on behind the curtain," he says, "so that people can make informed decisions about who they want their leaders to be."
The City of South Fulton is a unique place to be a leader. Incorporated last year so residents could gain local control over their tax base, it was founded partially in response to a 2007 Georgia amendment mandating that all tax dollars collected inside a city's limits would be spent inside that city—a law that left unincorporated areas with less money for city services, a division often felt along racial and class lines.
"There's still a debate going on within activist movements about whether we can change the system from the inside," Kamau says. "Whether being inside provides any leverage to transform this system."
I met Khalid early one morning at a restaurant near his office. Dressed in a sweater over a shirt and tie, he admits he's still settling into his new role as a public official. "I was just gonna throw on some sweats and meet you after the gym," he tells me, "but I have a city council meeting later and I can't walk in there in sweats."
Khalid spoke to us about his activism, politics, and his plans for the new city. This interview has been condensed and edited for clarity. How did you first get involved in political activism?
When I was in 7th grade, we had a field sports day. To make it more educational, the faculty modeled it on the Olympics and used our homerooms to represent countries. All the countries represented were European—at a school that was 90% black. So I started a petition to get African countries represented. It was ignored, and I called the media. The next year we had African countries.
How did you get involved with Black Lives Matter?
In 2015, after the death of Mike Brown in Ferguson, Mary Hooks, who works with SONG (Southerners On New Ground) put out a call through social media to form a chapter. I was shocked that Atlanta, this black mecca, didn't have a Black Lives Matter chapter. So when it was formed, I said that I had to be there. I was part of several protests, but behind the scenes I was involved in setting up the BLM website and political education.