Zurich:How to Come to Grips With the Change in Our Geopolitical Landscape
By Zurich / Financial Juneteenth | 5/11/2017, midnight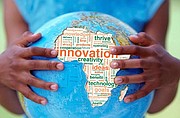 In a new uncertain global political world, businesses and governments have something in common
For years, governments have been producing detailed reports which look at various geopolitical power centers and their long-range dynamics.
For two decades, after each United States presidential election, the National Intelligence Council has published Global Trends, to give policymakers a snapshot of political shifts.
European Union institutions have produced public reports like European Parliament in 2025, which identify risks that could have important sociopolitical and economic ramifications.
In today's unpredictable geopolitical landscape, sudden developments — from diplomatic incidents to terrorism — are taking markets and businesses by surprise. So, it's not just governments that must consider such data — it's companies too.
"Governments and businesses face a huge amount of uncertainty with the political events coming up this year," says Dr. Mathew J. Burrows, Director, the Atlantic Council's Strategic Foresight Initiative, citing elections in Europe, Iran, and China's Communist Party congress.
Burrows had a 28-year career at the CIA and authored Global Trends in 2005, 2008 and 2012. As part of the Atlantic Council's collaboration with Zurich Insurance Group, he has put his expertise into a 2017 report which examines current likely paths of risks — such as the Saudi-Iran conflict — against alternative futures, to gauge their sociopolitical and economic effects, around a 20 year horizon.
"The global system could change radically and companies have to know what the possible consequences are — where they need to position themselves in order to succeed," he says.
Guy Miller, Chief Market Strategist & Head of Macroeconomics, Zurich Insurance Group says that nowadays, companies need to understand geopolitical risks better than ever before. The ones that fail to prepare for them, he adds, "may leave themselves open to being blindsided by events that might happen on the other side of the world but which may have direct consequences for their business."
In one example of interconnected global risks, commodity export-dependent countries, particularly in Sub-Saharan Africa, defaulted on their sovereign debt — which then exposed foreign businesses selling or lending to government entities or state-owned enterprises there. This risk largely crystalized due to low commodity prices, driven in part by the economic slowdown in China. While, sovereign defaults show no signs of subsiding soon, they are insurable.
Equally, governments and central banks may take steps to tighten the reigns on capital flight using capital controls (a mechanism China and Greece have employed). This could severely limit withdrawals by foreign investors with significant interests in a country. The effect of these measures in China has been a surge of requests for currency inconvertibility insurance, according to David H. Anderson, Executive Vice President and Managing Director, Credit & Political Risk, Zurich Insurance Group.
A PROTECTIONIST SHIFT IN THE WEST
As global risks interconnect and cascade, hot conflicts in the Middle East have spurred migration to Western countries, in some cases eliciting a backlash by local citizens who have turned their support to protectionist governments and policies. In other cases, existing governments have been gearing their policies towards a more protectionist stance. The latter can stifle free trade and challenge businesses.