W. Kamau Bell Unmasks Industry Racism in This Excerpt From His New Book, "The Awkward Thoughts of W. Kamau Bell,"
By Sameer Rao /Colorlines | 5/11/2017, midnight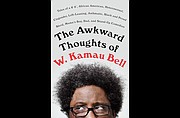 In this excerpt from his new book, "The Awkward Thoughts of W. Kamau Bell," the comedian describes a White show business figure's duplicitious and patronizing treatment.
Comedian and TV host W. Kamau Bell* unpacks his long relationship with race and racial justice, from childhood to fatherhood, in his new memoir. "The Awkward Thoughts of W. Kamau Bell: Tales of a 6' 4", African American, Heterosexual, Cisgender, Left-Leaning, Asthmatic, Black and Proud Blerd, Mama's Boy, Dad, and Stand-Up Comedian" was released via Penguin Random House imprint Dutton today (May 2).
As the title suggests, the "United Shades of America" host's book explores his growth as an anti-racist comedian while developing an intersectional perspective, often via uncomfortable moments. Each of its 10 chapters feature two sections: one chronological narration of a stage in his life ("My Awkward Youth," "My Awkward Blackness") and a reflective essay on a topic of contemporary or personal relevance ("Awkward Thoughts about Sports, Awkward Thoughts about the Democratic Party").
The following excerpt comes from his essay "Awkward Thoughts about White Guys." In it, Bell describes his chaotic start in showbusiness and the nuanced racism he has encountered from some White men. Read the excerpt and find out more about the book here.
====
I have worked with this White guy three times. Well, I've worked with this White guy at least three times in showbiz. I have met with this White guy. I've been promised things by this White guy. Now, let me be clear: these are three seemingly separate White guys. They have different lives and different names, which I won't be using because that would create the impression that these issues are only related to these three White guys. But as you read I hope you understand that this is a part of much bigger issues. This White guy is everywhere. He is literally unavoidable if you want to succeed in this country. I have worked with him three times in less than four years. And it always begins the same way. ...
He always pitches himself as the "perfect White guy"... at least the "perfect White guy" for a Black guy like you. OK, he doesn't say the words "perfect White guy" exactly, but the pitch makes that clear. This White guy has told me in detail that he totally gets me and that he gets what I am doing. And more than that, he gets the elusive "it." The sacred mix of racism, oppression, racial justice, White privilege, sexism, ableism, ageism, homophobia, Islamophobia, transphobia, phobia-phobia, all the phobias—from arachnophobia to zoophobia—that I am railing against. This White guy tells me that he's not like the other White guys. He voted for Barack Obama twice. TWICE! And he reads The New York Times...including the articles by Charles Blow. (But not the Roxane Gay ones, because she's a little extreme.) This White guy bought Ta-Nehisi Coates' book "Between the World and Me." And he's going to read it soon. Very, very soon!
This White guy has even worked with Black comedians before. Famous Black comedians. Black comedians who are just like me! Black comedians who are also committed to the cause. In fact, this White guy wrote a lot of those Black guys' "classic" bits. In fact, if only that Black guy had listened to this White guy more, he would have been even funnier. This White guy is so glad to be able to work with me because he knows I "get it" even more than the other famous Black comedians. Together, we are going to team up and get rich.... Oops, he meant to say, win lots of awards.... Oops (that ain't it), he meant to say, CHANGE THE WORLD! Yeah, that's it. We're going to change the world.