Golden State Warriors Await Challenge After Cruising To 8-0 In Playoffs
By Kareem Copeland /Associated Press | 5/11/2017, midnight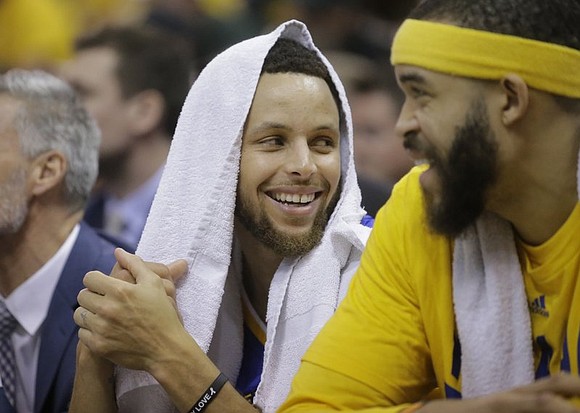 Salt Lake City, UT (AP)--The Golden State Warriors are four wins from their third consecutive trip to the NBA Finals — and likely a third straight showdown with the Cleveland Cavaliers.
With four All-Stars, including two MVPs, it's not hard to see why.
The Warriors eliminated the Utah Jazz in a sweep Monday night and are 8-0 in the postseason for the first time in franchise history. The Cavaliers, coincidentally, also swept their first two opponents.
For Golden State, the games mostly haven't been close. Only one victory, Game 3 against the Portland Trail Blazers, was decided by fewer than 11 points, and the Warriors never trailed in three of the four games against Utah. The trio of Stephen Curry, Kevin Durant and Draymond Green has been consistently dominant, and Golden State's elite length and athleticism on defense have been stifling.
"We are mostly impressed with how we are playing our brand of basketball," Green said. "We really imposed our will on the other team. That's big. In the playoffs, you let a team get in a groove and it's hard to win games like that.
"We have imposed our will all eight games. That's important on the offensive and defensive end, and if you can do that, with the talent that we have, with the experience that we have, it will be tough to beat us."
In the Western Conference finals, Golden State will face the winner of the Spurs and Rockets, who are tied 2-2.
The Warriors are averaging a playoff-high 115.3 points per game, ahead of the Cavaliers' 114.5. Golden State is allowing 98.8 points in the postseason to lead all teams still alive and has a playoff-best 96.9 defensive rating.
The offense has come in waves. One second, it's Curry shining, then Durant or Green the next. All-Star Klay Thompson has been in a bit of a slump, but still scored 21 points in the 121-95 victory Monday night.
Even as games have gotten more physical, Golden State has stayed strong on the ball and kept turnovers to a minimum, said interim coach Mike Brown. The Warriors' 11.5 turnovers per game lead all teams still playing, and Brown thinks combining that with their elite shooting and defense makes for a peerless combination.
"We feel like have good shooters, good scorers and we would rather take a bad shot than us trying to make a hero play," Brown said. "And we have a tendency, at times, to try to make hero plays with the basketball because these guys all appreciate each other. For the most part, they want to make the pass to somebody as opposed to making the shot. They get some sort of satisfaction out of it.
"It doesn't matter if Steph comes down, crosses half-court and launches it. At least we got a shot at the rim. We feel like most of those are going to go in at the end of the day, so we're good with it."
The Warriors have been without coach Steve Kerr since Game 3 of the first round and haven't missed a beat. He remains out after having a spinal cord leak procedure at Duke University on Friday, and there is no timetable for his return. He and Brown speak regularly, but that's an obstacle to overcome.