Florida Memorial University to Credit Trayvon Martin Despite His Death
By Daniel Peterson | 5/11/2017, midnight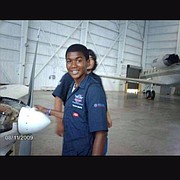 Although it won't heal, it will make a difference.
When George Zimmerman, a neighborhood watchman took the 17-year-old's life (Trayvon Martin)—he also took away the brighter future ahead of this teenager.
But Florida Memorial University, where Martin took aviation classes —plans to present Martin's parents with a posthumous 'Bachelors of Aeronautical Science' award—for Martin during their May 13 spring commencement ceremony.
"Even though it is going to be an emotional day, we're looking forward to it." Ceeon Smith of Florida Memorial University said about the ceremony where TV host, comedian, and actress Sheryl Underwood, will serve as the commencement speaker.
Martin, who was walking home unarmed from the convenience store, met his death when Zimmerman shot him in February 2012. But the watchman was freed from second-degree murder charges after claiming that he shot Martin to defend himself.
Martin not only had the hopes of becoming a pilot one day, but he was also struggling towards making that dream real.
As a child, he took classes at Florida Memorial University after being exposed to it by "one of our graduates—Barrington Irvin." says Martin's mother, Sybrina Fulton.
Irvin not only made history in 2007 by becoming the first youngest person to fly solo around the globe, but also the first Black-American to do so.
Irvin has a summer youth camp, and so as a young kid, mom Sybrina said that Martin used to attend many of the summer youth programs that were hosted by Irvin—and which were offered at Florida Memorial University campus.
Back in 2012 Sybrina revealed that "Martin loved working and flying with his hands. So Irvin took him on his personal plane at the Opa-Locka Airport. Martin got an opportunity to sit in the cockpit, and only that did it for him" she added "he wanted to either work as a mechanic in aviation or be a pilot. He was mechanically talented and could just fix anything."
Additionally, Florida Memorial University also has special places in the hearts of Martin's family members, because it's where his mother, Sybrina Fulton learned.
"Something of particular significance is awarding the Bachelor of Science Degree in Aviation posthumously to Martin. Sybrina, our alum, epitomizes dignity and strength as she uplifts several other victims of violence—while effecting change for a just and equal society," Roslyn Clark, the president of Florida Memorial said in a statement.
Even if life didn't give Martin enough time to complete his dream, it is good that the University knew what he was capable of—and decided to reward him accordingly.