Jordan Edward's Family: 'What We Desire Is Justice for Jordan'
Kenrya Rankin/ Colorlines | 5/4/2017, midnight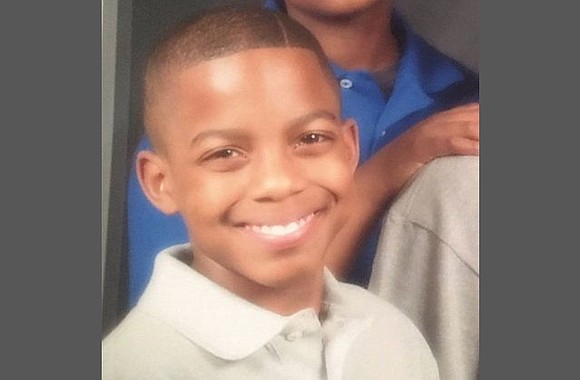 A Balch Springs, Texas police officer shot and killed the unarmed teen over the weekend. His family just released a statement about his death.
On April 29, 15-year-old Jordan Edwards attended a house party in Balch Springs, a Dallas, Texas, suburb. After hearing gunshots, he and four other teens headed to their car. Moments later, a still unnamed officer with the Balch Springs Police Department shot through a passenger side window and shot the unarmed Black teen in the head. He was pronounced dead at a local hospital.
The police department issued a statement via Facebook the next day, saying that officers were responding to a 911 call about drunk underage kids. The statement says the cops heard gunshots, then engaged in an "unknown altercation with a vehicle backing down the street towards the officers in an aggressive manner."
Yesterday (May 1), the department released an updated statement about the shooting, saying that the vehicle was actually moving forward—away from law enforcement—when the officer shot Edwards, who was in the front passenger seat.
The change in narrative came after Balch Springs police Chief Jonathan Haber watched body camera footage that showed the trajectory of the car. "After reviewing the video," Haber said at a press conference yesterday (May 1), "I don't believe that [the shooting] met our core values."
The family's attorney, Lee Merritt, agrees. "America must figure out a way to police its citizens without killing them," he said during a press conference yesterday. "It's not something unreasonable for this family to ask. It's not something unreasonable for the Black community to ask. To simply police our communities—to respond to nonviolent, non-life threatening, mundane police calls without resort[ing] to brutal force, without the unnecessary loss of innocent life." He also said that the teens in the car were not charged with any crimes following the shooting.
The Dallas County Sheriff's Department and the Dallas County District Attorney's Public Integrity Unit are investigating the shooting. The Dallas Morning News reports that the officer is on administrative leave, but Edwards' family wants him arrested and charged.
Led by parents, Charmaine and Odell Edwards, the family issued a statement to press today (May 2). It appears in full below, courtesy of The Root:
We would first like to thank everyone for their kind words, thoughts, prayers, and condolences as we mourn the tremendous loss our family and community has suffered. We know that so many of you share in our loss. At this time, we ask that you please be respectful of our family, and allow us the opportunity and space to grieve. This entire ordeal has been inescapable.
Jordan was a loving child, with a humble and sharing spirit. The bond that he shared with his family, particularly his siblings, was indescribable. Not only have Jordan's brothers lost their best friend; they witnessed firsthand his violent, senseless murder. Their young lives will forever be altered. No one, let alone young children, should witness such horrific, unexplainable violence. While our family attempts to cope with our loss, we ask that at this time the community please refrain from protests and marches in Jordan's and our family's name, as we prepare for his funeral. We do not support nor do we condone any violence or threats made against the Balch Springs Police Department or any other law enforcement agencies.
What we desire, only second to having our beloved Jordan back, is JUSTICE FOR JORDAN.
With All of Our Love,
The Edwards Family