IVN Co-Publisher's Pen
Ta Lese Shaterra / IVN Co-Publisher | 5/4/2017, midnight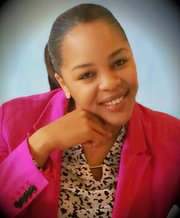 Upland, CA— Graham Brown said, "Life is about choices. Some we regret, some we're proud of. Some will haunt us forever. In essence what he was saying was that our lives and who we have become are a sum total of the decisions that we have made.
In life, everything is a choice. Often, our decisions are rooted in our desire to satisfy ourselves and to manifest the things we want to see for our lives. Too many of us are living in perpetual states of contentment and complacency rarely stepping into the places that will challenge us to become the greatest versions of ourselves. As I look at all of the things that are going on around the world, socially, economically and politically, it becomes even more clear that we can no longer stay in our own places of comfortability while there is so much going on. Something has to be done and it begins and ends with us. There is more that we can and should do, that would be of great benefit to humanity. The question I asked myself this morning, is the same question I want to ask you. What choices will you make today that will make tomorrow better for you and the generations to come after you?
Choice is best defined as the right or ability to make or the possibility of making a selection. I have made up in my mind that I am going to begin to make the kinds of choices that will impact more than just myself and my immediate surroundings. I am choosing to make the kinds of decisions that will help to make my immediate world, my community, and my neighborhood better. I have spent a great deal of time over the past few weeks processing just how I can do better, and today I am determined to do just that.
In my time of reflection I have decided to live my life more purposefully.Living a purpose filled life takes a great deal of focus and intentionality. It also takes a measure of faith to believe that we were created for more. Once you come into the revelation that you were created for more, you can then begin to live your life in alignment with your gifts, talents, passions and abilities. If we don't connect to the purpose in which we were created, we will continue to just exist and miss out on the beauty of living.
Today I choose to not only live more intentionally, but to also be more proactive in creating new ways to assist those coming behind me to ensure that they maximize their potential.. The world has a way of stripping children of all that they can be because it's more convenient to put them into the boxes of what society believes they should be based on frivolous things such as race, socioeconomic status and cultural identity. Groups like the Inland Valley Care Initiative are making headway addressing these issues head on as they partner with local agencies to assist in advocating for our children to have safe places to go after school, that support and nurture their unique gifts and talents. These agencies give our children opportunities to gain life skills, that will prepare them to excel in every area of their life.
The San Bernardino Chapter of the NAACP just recently held their Annual Freedom Fund Dinner. It was there when I heard the Chapter's President A Majadi speak in great lengths about the NAACP's commitment to build on the successes of our people and create avenues specifically for inclusion, and equal participation in policy and decision making processes. His speech on the need for practical engagement is what ignited a new passion and fire in me to work all the more diligently to increase my personal engagement in the issues that matter most to the African American community and to humanity as a whole.