The National Sports Beat with Brad Pye Jr.
Brad Pye Jr. | 3/30/2017, midnight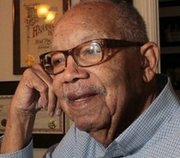 LOS ANGELES- Notes, quotes and things picked up on the run from cost-to-coast and all the stops in between and beyond.
The Golden State Warriors could wait for so long before they let the hammer down on the Oklahoma City Thunder in their last meeting in San Francisco.
By the way Matt Barnes, the ex-Clipper and Laker, has apparently found himself a Playoff spot for a longer or less time. With All-Star Kevin Durant out for weeks or longer. Matt Barnes has been a handy replacement for the injured all-star. And the beat continues!
The Houston Rockets' James Harden has the right tact when it comes to players who elect to sit out, Harden says; "I will rest when I'm done." "Right on bro!"
The Cav's LeBron James warned DaVar Ball the dad of UCLA's Lonzo Ball to keep his son's name out of his mouth; "Keep my kids' name out of your mouth, keep my family out of your month. This Dad to Dad. It's a problem now. James told ESPN, in response to criticism of 12-year old LeBron Jr."
I don't think it would be wise for LaVar Ball to talk that jazz in person to LeBron, Sr.
Barry Bonds the all-time MLB homerun hitter with 762 as a member of the San Francisco Giants spent last season as an Advisor for the Miami Marlins. Bonds will be back with his old team in the same capacity this season. And the beat continues!
The Carolina Panthers' QB Cam Newton will undergo surgery and will be sidelined until after the start of the regular season. The 27-year old Newton injured his shoulder in the 14th week of the 2017 season. Newton didn't miss a snap. He's a tough dud!
Controversial ex-San Francisco '49ers Colin Kaepernick who led the Jim Harbaugh coached '49ers to the Super Bowl is very high on the QB who refused to stand for the National Anthem. Harbaugh says: "He'll have a great career and be a great quarterback, win championships."
The L.A. Rams are counting on two-time Super Bowl star Kayvon Webster to help take them to the Big Game.
And the beat continues!
Chuck Berry shook up the Rock 'n' Roll world like Goose Tatum used to shake up the basketball courts of the world. Chuck Berry died the other day in Memphis. Berry was 90 and the true founder of 'rock 'n' "Roll Over Beethoven song. Chuck Berry is on the way in all of his splendor and glory to be with "Beethoven."
Of the 12 top NCAA head coaches who are obtaining rich, rich bonuses for earning top NCAA and league spots. Not one was a coach of color.
Westbrook made all six of his free throws and all six of his field goal attempts. According to the record books no player had missed only one point in a triple play.

There are several college basketball coaches of color. Why didn't USA TODAY Sports include one of color?
Sorry about that bro!