The National Sports Beat with Brad Pye Jr.
Brad Pye, Jr. | 3/23/2017, midnight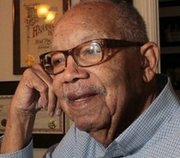 LOS ANGELES- Notes, quotes and things picked up on the run from cost-to-coast and all the stops in between and beyond.
After Sunday night's 79-67 victory over Cincinnati the UCLA Bruins Lonzo Ball (18 ), Bryce Alford (16 ), JF Leaf ( 11), ). Ike Anigbogu (6) and Hamilton ( 10) will need to continue with a real balanced effort.


The Ball Brothers of Chino Hills and UCLA have a real Motor Mouth supporter in their dad LaVar Ball. Listen to one of old dad's many quotes in publications, TV, radio, social media et al Madisan Keys was the only person of color who competed in the Indian Wells Tennis Open. Donald Young played in the men's division. Young won his third match vs. Lucas Pouille, 6-4, 1-6, 6-3. His next scheduled match was vs. Nishikor. Young says: "It's exciting to come through and be playing consistently, at least at the start of the year, and just to beat back-to-back opponents Stefan Kozlov and Sam Querrey." And the beat continues!
The best known dad of High School basketeball players is LaVar Ball Sr. Reason; For like the following comments; "You talking about a dad, me, talking too much? I know some of these dads are not even there. Alcoholics, drunks and waiting for their sons to make it." Mount Santa Mary's Junior Robinson is the smallest player in Division 1. He scored 27 points to lead his team to victory in the opener, 67-66 win over New Orleans in the first game of the Final Four at Dayton, Ohio. Coach Andy Enfield's USC Trojans are being considered as a NCAA Playoff Cinderella candidate after knocking off Providence, 75-71, With Nick Rakocevic, Chimezie Metu and Bennie Boatwright, Jordan McLaughlin, Elijah Stewart, Jonah Mathews, Kurts Karis, et al .
The Clippers battled back on Sunday from a 17 point deficient to beat the Cavs, 108-78, liked they owned them. In fact they did! Blake Griffin (23), Jamal Crawford (13) and DeAndre Jordan (13) knocked the Cavs off the court like they owned them! They did! And the beat continues!
The Cleveland Cavaliers came to the Staples Center in the last ten days or so to play the Clippers and the L.A. Lakers. I will take that back! Cavs was in the city with all but their starters on display. Blake Griffin declared: "It's a different game without LeBron and Kyrie and Kevin playing...We are not going to pretend like it's not." The Cavs headed by their leader, LeBron James et al were only observers. Comments: In my estimation players shouldn't play when they are sick, injured or for some personal reasons.
When Oscar Robertson was flipping basketballs into baskets in the late 50s there weren't as many black people sitting in the pews and pulpits of White churches as there are on Sunday morning. Nor were there as many Blacks playing basketball in high schools, colleges or in the pros. The Russell Westbrook needed 13 triple doubles to break Oscar Robertson's all-time record. Westbrook needs only 34 to break the Thunder's standard. Racism in the LAPD put O.J. Simpson in prison on a 33-year alleged murder rap. And that's what kept him there until October or longer. Sports Illustrated wrote as much.And the beat continues!