IVN Co-Publisher's Pen
Ta Lese Shaterra IVN Co-Publisher | 3/23/2017, midnight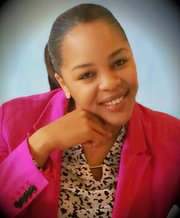 Let Women's HerStory Month Inspire You to Pay it Forward by Giving Back
This year's Women's HerStory month has been nothing short of phenomenal. We, here at the Inland Valley News have made it a point to highlight women who are unique, unafraid, and unapologetic in their quest for equality.
These women broke barriers that were unheard of, forged ahead past fears and doubts, and yet still reached limits that were only dreams early on.
These women we've highlighted are not the only women that have made tremendous strides in our history. We all know of a woman in our experience who has paved the way for each of us to aspire towards our dreams. But as we bring Women's HerStory Month 2017 to a close, I am compelled to turn my attention to you . . . the unsung legendary ladies in our community whose stories have yet to be told. How will you make history? What will be the legacy lived out loud that will be . . . and is uniquely yours?
In asking these questions I am also reminded to ask how will we use our gifts, talents, skills, abilities and experiences in mentoring young women and helping them find their calling and voice. While more and more women are speaking up for themselves and their worth, it is important that we empower young women to do the same. As soon as they discover that their voice has weight, they can identify the best way to use it.
Which brings me to my point: Go out and mentor someone. Pay it forward. Even if you think you're too young, too inexperienced, or that you don't have anything to give quite yet, trust me—there is always someone just one step (or more) behind you who will learn an incredible amount from you.
Serving as a mentor can be as beneficial to the mentor as it is to the mentee. Every time I mentor someone I learn something new—not only factual knowledge but also something about myself. It makes me a better manager, a better leader, and a better person overall. It's an incredibly rich and rewarding experience.
Working with the young ladies that I have the privilege of working with on a regular basis, I am inspired about the potential of our next future generations. And while they have everything they need inside themselves to lead lives of greatness and purpose, with enough encouragement and positive role models, there is no limit to what they can achieve.
Let us remember to pay it forward . . . By reaching back.
From where I sit,