How 'Neurospeculative AfroFeminism' Uses Virtual Reality to Explore Otherworldly Transformation at a Black Hair Salon
By Sameer Rao /Colorlines | 3/23/2017, midnight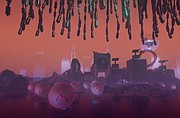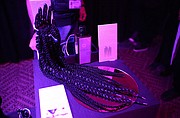 Colorlines sat down with designers from Hyphen-Labs, a multidisciplinary creative collective led by women of color, to discuss the inspiration behind the immersive experience they showcased at South by Southwest.
Imagine this: You're a Black woman at Brook's Salon for the first time. You're waiting for a stylist to do your hair. Only, she's not a stylist so much as a chemist, with a series of containers holding unknown chemicals close at hand. She says she has just the thing for you and takes you to a back room—where you are suddenly traveling in an otherworldly space, floating above black water that surrounds an island with massive speakers and a DJ playing downtempo R&B. Long black extensions hover above you like shining dreadlocks in a blood-red sky. As a matter of fact, it looks something like the image above.
After all this, you're outfitted with a set of "Octavia Electrodes," or extensions that increase the sensitivity of your brain's synapses. Then you reenter the salon refreshed and looking better than ever.
If you can envision at least part of this, then you can scratch the surface of "Neurospeculative AfroFeminism," (NSAF) a virtual reality (VR) experience that demoed all week at South by Southwest (SxSW). Participants enter a dark room and don headphones and an apparatus that places a cell phone screen right in front of their eyes, immersing the viewer in the scenario above. Afterwards, those willing to debrief go to an adjoining room for a live study about what they experienced. NSAF showcased at South by Southwest after premiering at Sundance Film Festival's "New Frontier Art" showcase in January. It comes to New York City's Tribeca Film Festival next month.
NSAF designers Ashley Baccus-Clark, Carmen Aguilar y Wedge, Ece Tankal and Nitzan Bartov are members of Hyphen-Labs, a New York City-based interdisciplinary studio that creates media at the intersection of art and technology. Like the rest of the collective's members, the four designers are women of color representing a variety of ethnicities and professional backgrounds.Baccus-Clark, a molecular biologist by training, described NSAF as "a transmedia project looking at the roles and contributions of women of color in the science, art and technology realm, specifically focusing on Black women," in an interview with Colorlines on Wednesday (March 15).Aguilar y Wedge, a structural engineer and Hyphen-Labs' co-founder, added in the same interview that the quartet wished to create something that focused on women of color in a narrative technology mostly associated with White men. "We hadn't seen any virtual reality or 3-D experiences that put Black women at the centers of the narrative," she explained. "This is kind of a story to our younger selves as technologists, engineers and scientists. We left fields because we didn't see ourselves projected in these spaces, so we wanted to create an experience that if had were able to see it, maybe it would've encouraged us to continue in those fields."
With these ideas in mind, they developed the experience around the idea of a Black beauty salon as a transformative space. "Inside the salon, you have a space where you can interact with products, and there's always this back room where maybe there are investigations going on or people take a break," says Aguilar y Wedge. "We envisioned that as where science goes on."