WGN Series Underground Returns With Explosive Season 2 Premiere
By M. Swift | 3/16/2017, midnight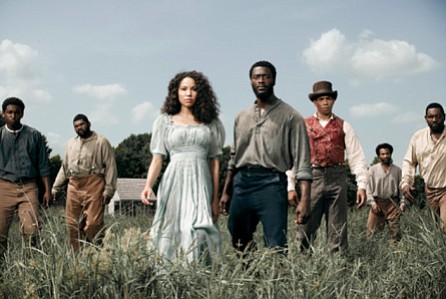 March is a big month for TV—especially for me. The kung fu film lover in me is waiting for season two of AMC's Into the Badlands while the Marvel Comics loyalist in me is looking forward to Netflix's Iron Fist (casting and reviews aside). Another show that there has been a long wait for s WGN's Underground.
This show was one of my must-watch shows last year and was in such company as Into the Badlands, Luke Cage, Daredevil, Stranger Things, Agents of S.H.I.E.L.D, and the Roots miniseries. It had a strong overall storyline and quickly picks up the pace. RECAP OF UNDERGROUND SEASON 1
There was the relationship between Ernestine and Tom Macon which was mainly to protect her youngest child. You also have Rosalee (Ernestine's daughter) and Noah's relationship, the plot to escape Macon plantation, Cato being a wildcard, and the escape from Macon plantation. That's all in the first couple of episodes.
Viewers are introduced to slave catcher August Pullman and his son as well as abolitionists Elizabeth and her husband, lawyer John Hawkes (brother of plantation owner Tom Macon). The series picks up following the death of several of the escaped Macon 7, the capture of a couple of the Macon 7, their second escape, an important character being captured
The series picks up following the death of several of the escaped Macon 7, the capture of a couple of the Macon 7, another escape, an important character being captured again, and several pivotal deaths.
A lot happened in season one. It's ten episodes and it's been a year, check it out.
A LOOK AT SEASON 2'S PREMIERE
Looking at the flurry of action and drama of the last three episodes of season one, it's expected that season two's premiere would be explosive, right? I mean that is what you do with TV now and days: end big and come back with an explosion.
Season two of Underground did just that. It starts with Rosalee helping to free captives while fleeing slave hunters. It turns out she has been training with Harriet Tubman and has become one of her agents. Now, I'm not sure if it was specified how much time passed, but enough passed that Rosalee's pickpocket, sabotage, and miscellaneous skullduggery skills all improved.
Patty Cannon, known for her role in the reverse Underground Railroad is hunting Tubman. In Underground, she's depicted as basically reverse Tubman. She's not afraid to pull a pistol on someone and after the biggest bounty.
Meanwhile, Noah is in captivity while a trial is held to decide his fate following the events of season one. The realization that the legal system of the 19th century didn't work for Black people sinks in with the Hawkes.
The other major story touched on in the premiere was Ernestine's. She's dealing with her fate after her actions in season one. Originally working in the big house, she has now been regulated to fieldwork on Roe plantation.
She's lost one son, her youngest is sold off, and her daughter Rosalee is out in the world. Currently, she's addicted to laudanum and is being haunted. Ernestine has also ended up in an abusive relationship.
CHECK IT OUT
It was a great start to the season. If you were hooked on the first season, you're likely to enjoy the kickoff to this one. If you considered watching it but never got around to it, now's a good time to binge season one. It's ten episodes and could be enjoyed in a weekend or single long sitting.
M. Swift primarily writes on moments and important figures in Black history on Your Black World. He also writes on wrestling, comics, gaming, and Black sci-fi and fantasy.