Wendy's Window: "Women Everywhere Touch Our Lives "
Wendy Gladney Dean | 3/16/2017, midnight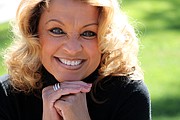 Upland, CA. The month of March is a time when women are celebrated and their achievements are highlighted. Whether we look back through history, look at the women in our family, or look at the woman standing next to us, we can see examples of how women make a difference and are carving out new paths each and every day. I think it's wonderful that we have dedicated a special month to acknowledge the work and accomplishments of women. But I also believe it shouldn't stop after March concludes; we should celebrate the contributions of women on an ongoing basis.
There are so many worthy women in history that I have admired and there's no way I could try to recall each and every one of them in this article. But at the top of my list would be Rosa Parks, Eleanor Roosevelt and Dorothy Height. There are also contemporary women in the public eye for which I have great respect, including Dr. Yvonne Cagle, Former First Lady Michelle Obama, Congresswoman Karen Bass and Dr. Katherine Johnson, just to name a few. Then, of course, in my own family and everyday life, I am blessed to be surrounded by sheroes who are trailblazers in every facet of the word. I am grateful for the women who have mentored me and shared with me just a little piece of their lives.
As a woman, my very first role model was my grandmother, Rebecca Ruth Reed Harris. Those who have followed my column over the years have probably noticed I refer to her often, especially her words of wisdom. Those who knew my grandmother personally called her "Mother Dear" and those who knew her professionally called her Mrs. Harris. She was never just Rebecca. There was something so special about her that made you want to respect her very presence. I am incredibly grateful for the firm foundation she gave me of understanding the importance of faith, family, community and serving others; the core in which I live my life every day.
If you want to make a difference in the world you don't have to be famous. Dr. Martin Luther King, Jr. once said, "Everyone has the power for greatness, not for fame but greatness, because greatness is determined by service." All we have to do is care about our fellow wo(man). My grandmother taught me that while we are on this earth we all have a job to do and when we do what we are called to do, the picture comes together. Sometimes we can't see it or even understand it, but just like a puzzle where all of the pieces are scattered, when they come together and are connected at the right place, the picture is revealed. So keep your eyes on what you're called to do; be the best person you can be. Who knows, one day someone may thank you for making a difference in his or her life.
Healing Without Hate: It's a choice. It's a lifestyle. Pass it on!
Visit www.WendyEnterprises.com and www.forgivingforliving.org. Wendy is a coach, consultant and speaker. You may email her at wendy.gladney@gmail.com.