Victory Community Church women's "Herstory" Month series
IVN Staff Writer | 3/16/2017, midnight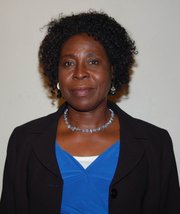 Upland, CA-- The Women's Fellowship of Victory Community Church (VCC) will continue to host their Annual Women's Celebration Series in recognition and celebration of Women's History "HerStory" Month. Along with the weekly celebration series, several other activities are scheduled throughout the month of March.
VCC is so pleased to announce that the following women of God will share the gospel during the 9:30 a.m. worship services each week. Cynthia Clay did an outstanding job this past Sunday, telling the life and legacy of Deborah, a phenomenal women nestled in the book of Job. What will an epic month full of the supernatural power of God. This Sunday, March 19th, will be the resilient and powerful Minister Selena Austin Terrell of Antioch M.B.C. and, Pastor Evelyn Ali of the Victory Community Church will minister to everyone in attendance and closing the month-long series out on Sunday, March 26th. You don't want to miss a single Sunday.
Minister Selena Terrell was born in Saint Louis, Missouri where she accepted Christ as her personal savior
Accepted her call to the preaching ministry at Antioch MB Church under the leadership of
Pastor William E. Tyler; was licensed to preach on her 36th birthday, December 9, 2001 and ordained August 2007.
Received her Bachelor's Degree in Organizational Management from the University of La Verne and is currently pursuing her Master of Arts in Theological Studies at Liberty University.
Minister Selena has been an active member of the Antioch Missionary Baptist church since 1992 (although she was away for approximately 2 years serving at a sister church IPF).
Minister Selena has served in the following areas:
Choir, Church Secretary, Director of the Singles Ministry, Director of Health Ministry, Director of Christian Education, Evangelism Ministry, Ministerial staff and currently the Founding Director of
God's Women in Corporate Prayer which is not just an intercessory session but a place where "Unity is Created and Encouragement is Found."
Minister Selena has a sincere passion, as she herself continues to strive to live better, she wants to help others live a better life by encouraging them through the Words and Wisdom that God gives her to share with others.
One of her favorite passages of scripture is found in I Corinthian 9:26-27 which says: "I don't know about you, but I'm running hard for the finish line. I'm giving it everything I've got. No sloppy living for me! I'm staying alert and in top condition. I'm not going to get caught napping, telling everyone else all about it and then missing out myself. "
She is happily married to Elder Leo Terrell, Jr. She is a proud Mother and Grandma Nana.
Above all of this and that which truly matters, is She Loves God and desires to make Him Happy with the way in which she spends her time on this side of eternity.

The Women's Celebration Series has taken place each Sunday in March with a different and unique speaker bringing forth the Word each week. You don't want to miss a single speaker.
Come hear the dynamic words from these phenomenal Women of God each Sunday at 9:30 a.m.
VCC is delighted about Women's HerStory Month and is inviting the community to come out and celebrate with them. Make sure to bring a friend or two. The celebration will take place at the church's temporary worship center at the Inland Valley News' Conference Center located at 2009 Porterfield Way, Suite C, Upland, CA 91786.
For more information, directions or transportation please contact the church office at (909) 981-1195.