Racial Progress in Film Remains Slow Drag 30 Years After Hollywood Shuffle
Lawrence Ware- The Root | 3/9/2017, midnight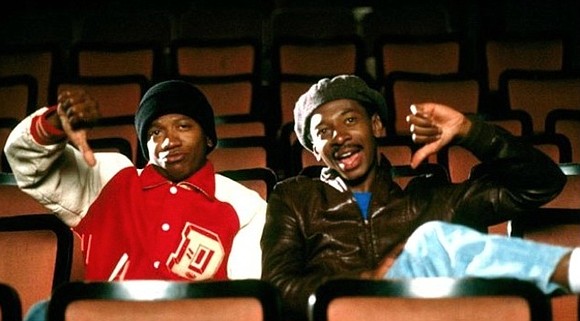 Robert Townsend's Hollywood Shuffle was released 30 years ago this year. Although it couldn't have been noted at the time, Shuffle became a foundational film that launched the careers of two of our most prolific filmmakers and made us aware of an entire family of comedic geniuses—the Wayans family. I most remember the film for how it showed us the political potential of sketch comedy (and for this classic Jheri-curl sketch).
Drawing from Townsend's and co-writer Keenen Ivory Wayans' experiences of having white film executives coach them on how to "be black" according to white stereotypes about black behavior, the film's satirical commercial for "Black Acting School" was a courageous act of truth-telling. It showed how deeply entrenched the white gaze was in an understanding of blackness in 1980s Hollywood—and not much has changed.
Last year around this time, the hashtag #OscarsSoWhite dominated the news cycle. This was partly because of the steep decline in minority representation among the nominees for the Academy Award (indeed, there were many black and brown actors and actresses who could have been nominated), but also because of the historical precedent set by the Academy of Motion Picture Arts and Sciences in failing to recognize people of color. This marginalization did not go unnoticed before 2015 in black and brown communities, as Hollywood Shuffle pointed out back in 1987; however, because of the democratizing power of social media, decision-makers and news sites were forced to come to terms with the hashtag and the history that gave rise to it.
In response to the social pressure that black intellectuals, cultural critics and others who make up the pantheon of what is colloquially called "black Twitter" put upon the academy, the underwhelming Nate Parker film The Birth of a Nation was given an unprecedented distribution deal coming out of Sundance, and academy President Cheryl Boone Isaacs issued a statement voicing her commitment to increasing diversity among the membership and decision-makers—and it appears that these changes are having an effect.
After two years of #OscarsSoWhite, 2017 gave way to a groundbreaking year for movie blackness. We had three films with predominantly black casts nominated for best picture, and after an epic fail on the academy's part, Moonlight walked away with the award. Four films with black directors were nominated for best documentary, with Ezra Edelman's O.J.: Made in America winning. Also, out of a record six acting nominations, Viola Davis and Mahershalalhashbaz "Mahershala" Ali won for best supporting actress and best supporting actor, respectively.
So ... things have gotten better since 1987, but one year of inclusion is not the goal. Hollywood Shuffle's insights remain relevant. In fact, while we celebrate this year's historic win, far too many black actors and actresses are still almost exclusively cast as inner-city toughs or historical figures. For example, while Ali was a brilliantly atypical drug dealer in Moonlight—he was still playing a drug dealer. Therefore, while this year's Oscar season has shown us that typecasting is changing, there is still much work left to do. Therefore, more work needs to be done—and Townsend and his co-writer Wayans have had a hand in changing what is possible for black folks in Hollywood.