The National Sports Beat with Brad Pye Jr.
3/9/2017, midnight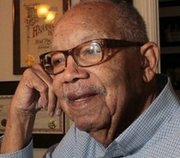 Los Angeles, CA--Notes, quotes and things picked up on the run from cost-to-coast and all the stops in between and beyond.
The star GMs and recruiting scouts who will be in Indy to see everyone in the 2017 class who would like to become stars in the NFL.
These GMs and Scouts will check out these newcomers for jobs in the NFL. Tops in the 2017 class of QBs include Clemson's Desaun Watson, Notre Dame's DeShone Kizer et al.
Check This! Coach Hue Jackson's Cleveland Browns have the first No. 1 and No. 12th picks in the 2017 NFL Draft.
Rio Olympic Games gymnastic great Simone Biles will try to duplicate her Rio teammate Laurie Hernandez on "Dancing with the Stars" and Mr. T. will also be one of the dancers better known on NBC's The A-Team.
And the beat continues!
Bernie Custis, the first Black QB in the history with the Hamilton Tiger-Cats in 1951, is credited with being the first Black QB in Pro Football. The late Oakland Raiders owner Al Davis and Bernie were teammates at Syracuse University. Both Davis and Custis were Commissioner of the old AFL and the first Commissioner in the CFL.
Hampton beat Winnipeg in the Grey Cup, 12-6.
And the beat continues!
The OKC Thunder's Russell Westbrook is on his way to becoming the triple double history maker of his era like Oscar Robertson was in his time.
Lon Rosen, Dodgers Executive Vice President and chief marketing officer......expects KTLA Channel 5 and the Dodgers to work out a deal to televise 10 games in April and May.
USC grad Allyson Felix had a bunch of gold, silver and bronze medals she brought home from the London and Rio Games and she hopes to do the same in the L.A. 2024 Games. The four major Hollywood Studios will join to help the 2024 Games enhance its bid. Four Olympians was asked to name its favorite Oscar winning movie in a social media poll. Allyson Felix nominated "Chariots of Fire." Swimmer Haley Anderson picked "La La Land."
QB Colin Kaepernick is taking his bale of hire as he makes his exit from the San Francisco '49ers to take his serves to some other NFL team.
And the beat continues!
If Oklahoma QB and Heisman Trophy finalist Baker Mayfield's play is as good as his apology he should have a great 2017 season. Baker apologized after his arrest in Arkansas. He said: "With much love and regret. I will earn your respect back and prove that I can handle myself every situation, on and off the field."
Three great local broadcasters—Vin Scully (Dodgers), Chick Hearn (Lakers) and Bob Miller (L.A. Hockey Kings) started here and ended their careers with the same teams. Thanks men for all the thrills and entertainment of joy and happiness you brought to your legion of fans. Hope your retirement days will be as joyful as broadcasts you gave us. . Thanks Vin, Bob and Chick for all the joy and happiness you brought to all of your fans around the world. The Southland has landed a triple double with y'all of you as our famous trio