Muslims Make Wu Tang Movie in China to Get the World's Attention
Blacknews.com | 3/9/2017, midnight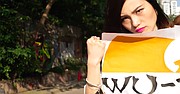 Filmmaker Tsalta Baptiste Debuts Trailer for Film CREAM on YouTube
Shanghai, China — Widely known as "Chinese Tupac" or "The One Man BET in China" actor, screenplay writer and director Tsalta Baptiste has released another timeless movie trailer that Chinese audiences can expect the rest of the world to talk about yet once again. In 2016, Baptiste was covered in 60+ publications from 11 different countries including Rolling Stones Italy, Maxim Magazine and NY Times. His 2016 film Until the End of Time showcased global uniqueness from a young Black American male's perspective while living abroad, a glimpse into a world that many were not prepared for and it soon became a viral sensation.
Baptiste made history with the film by creating the "first movie in China that received major worldwide press without having any Kung Fu involved" which was recognized as being "very unique but hard to classify as a world record" according to Guinness World Records– and he did it while being a Black foreigner studying in China.
Regardless of critic's opinions about his work, its safe to say that he is leveraging his position well by bridging awareness of Western and Eastern culture together from an unapologetic Black millennial's perspective who is obviously a true fan of hip hop. A refreshing variety that almost reminds you of a present day Romeo Must Die or Rush Hour franchise genre through the use of all of today's innovative tools and content that utilizes Internet sensationalism responsibly.
"Diversity in media is recognized as a successful model both nationally and internationally," Baptiste explains. "Living abroad for nearly three years I've found we have more in common with the immigrants in our country than we do with our own leadership. Today the global economy is an important aspect of my generation and lacking the knowledge thereof is doing more harm to the Black community than we think~ and so does visa versa. We're living in a time where the "true extremists" continue to widely misinform and oppress the masses yet have the audacity to publicly wonder why everything isn't right in the world. Hopefully, my products will become models on how to cost-effectively rival Hollywood through international synergy and effective viral campaigning," explains Baptiste.
Though Baptiste is not of Muslim faith himself, he shares that his best friend while living in China was ironically from Afghanistan and it is that friend and actor 23-year-old Erfan Bashiri, who was casted as lead role in the movie CREAM. In addition to creating a playlist on YouTube, Spotify and other streaming platforms that feature Muslim hip hop artists mixed with classic Wu Tang tracks and more independent artists, there is also a link to a merchandise store externally attached on the YouTube video where 50% of all profits from the items sold are donated to various Muslim reliefs. As growing influences from Chinese audiences continue to contribute to what is shown in today's American films, commercials and television shows, it seems Baptiste is well on the way towards summing up the future of all of it, while, "rebranding the image of "Black magic" and China's very own cultural-insensitivity claims, globally" writes journalist and Indian native Mansi Modi, Guide in China Magazine.