IVN Co-Publisher's Pen
Ta Lese Shatterra | 3/9/2017, midnight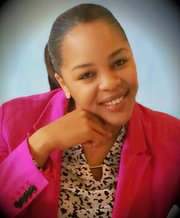 Upland, CA—Hello Readers, Friends and Followers:
In Keeping with our Women's Herstory Month Focus, I would like to use this week's pen to show my deepest admiration for my sister Ms. Ta Mia Morrow.
"Sis, as the proverb goes, 'a sister is a forever friend' is so true for our relationship, you are not only my sister but also my friend. Thanks for always being there no matter what the situation. Not only have you been there for me when I needed you the most, you have also been there for your niece Reigne.
For many years we've shared our lives, one roof we once lived under. Sometimes we laughed, sometimes we cried, other times we fought. The younger years have faded fast, although we travelled our separate ways through life, but through all time our friendship lasts. A closer friend I'd never find. Than the one I call my Sister.
To think, we grew up so distant, having our own set of friends and scheduled activities to now grown with children and completely inseparable. Our so called quick chats that turn into hours of laughter that turns into being fed wisdom, and guidance to help me along life's sometime weary road is priceless.
I have watched you become the perfect person in my eye. You are brilliant, intellectual, charismatic, nurturing, having a boss mentality. Being around you would make a person want to completely alter who they are to adopt some of the principles you live by.
Ta Mia, you are the epitome of a fearless, fabulous, faith-living woman. You are the embodiment of what it means to persevere. And because of that, I have vowed to continue striving for excellence just the way you did!
I will follow you lead and push towards my destiny. I will one day fulfill all my dreams as I have watched you do.
Tam, you are the best sister a girl can have! But more than that, you are my friend! I love you!
My sister shares a part of me that no one else shall ever see. And when the days and miles divide us, the bond we have will live inside us. Together sharing dreams, love and laughter... My sister for always, my friend...forever.
-Unknown
Until next time,