Inland Valley Uplift's 8th Annual Youth Leadership Conference, a Huge Success
3/9/2017, midnight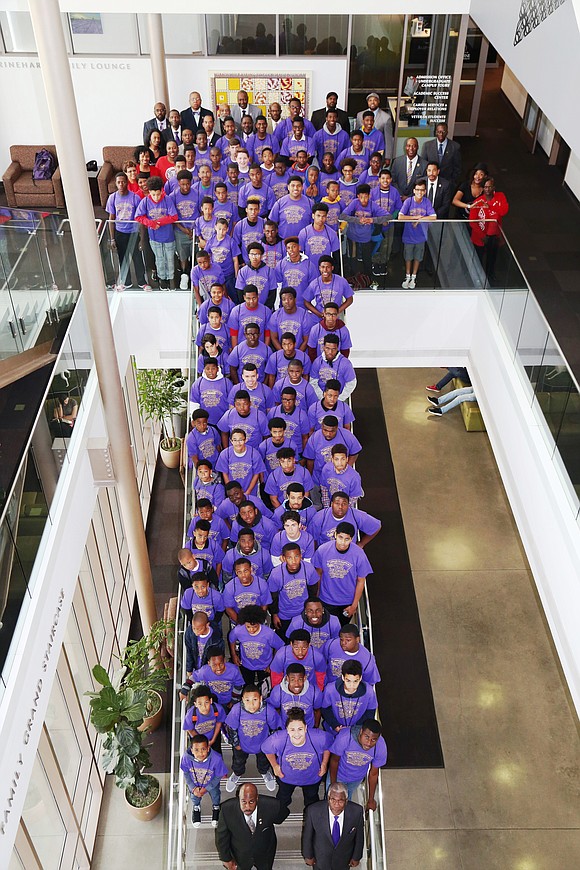 LaVerne, CA--With the theme "Believe in Yourself", the Inland Valley Uplift Foundation (IVUF) assisted by the Zeta Tau chapter of Omega Psi Phi Fraternity held it's eighth annual Youth Leadership Conference (YLC) at the University of La Verne. The participants were diverse group men in grades 5 -12. This YLC continued a tradition that was started four years ago, by inviting the parents and having separate session for mothers and fathers. The IVUF believes that the more individuals involved in a child's upbringing, the better his chances are for success.
The conference started with invocation by Donald Mahoney followed by an inspirational testimony was given by Rev Tommy Morrow.
Attending this conference for the second time was the International Grand Basileus (GB) of the Omega Phi Phi Fraternity, Antonio F. Knox, Jr. He addressed the all persons in attendance and brought greeting from the international Headquarters from the Omega Psi Phi Fraternity. GB Knox stated, "I am very impressed with Youth Leadership Conference! Building Bridges to a better way of life is important to men of Omega Psi Phi and a must for our young men!. Every young man deserves the opportunity to reach his fullest potential! The brothers are working to give them that opportunity! Stay with them, they deserve the best."









Other Chapters from around the Southern California area that were present and included: Lambda Omicron, Mu Alpha Alpha, Phi Beta Beta, Pi Rho, Psi Gamma Gamma Rho Iota Iota, Sigma Iota Iota, Tau Tau, and Zeta Rho. These Chapters represented an area from Oceanside to Lancaster, California. The Soros of the Pomona Valley Alumnae Chapter of Delta Sigma Theta Sorority handled registration and were one of the major presenters in the mother's portion of the conference.
The Youth Conference included College Prep, Life Skills, Planning and Achieving Goals, Electoral College, STEM and is College for You. Youth workshop presenters were Keith Parker, Stephen Baker, Tirrell Hamilton, Davell Williams, Michael Kennedy, Paul Turner and Michael Haynes. These fortunate students, attended workshops on Careers in Science, Technology, Engineering and Math (STEM) presented by the foundation's STEM Program Coordinator Michael Haynes, a Compliance Engineer, in the Toxic/Hazardous Waste Unit, SCAQMD.
At this year's workshop, he presented both the STEM Careers of the future", and College Preparations for a STEM College major. "We are living in a Technology driven world and a Global Market place requiring both middle and high school students, especially Minority students to re-consider their College major and Career field. We were always measured by how fast we could run, and how good we bounce a ball; Now we must begin focusing on Designing the running shoes and making a better Ball".

During the (2) one hour presentations, Haynes outlined curriculum updates made at the middle-high school levels in Science, Technology, Engineering and Math, while explaining to student's the identification of Genetically modified food (vegetables) verse Hybrid vegetables and showing examples of the new career fields i.e. 3-D Printing, Hazardous Materials, Genetics- (Designer Babies), Cloning, Unman- Aerial units (Drones), Aviation and Transportation management. Haynes said "Now we must Prepare our Students to think, not only globally, but on an intergalactic level, i.e. occupation of the planet Mars". After showing 35- slides on STEM Careers of the Future I.E. Transportation Management, Bio/ Environmental Engineering, Genetic Modified Foods (GMO), Cellular /Computer Technology /GPS, UAS (Drone Systems Operator) and Hazardous Waste and Materials Management. Haynes, closed out the presentation saying "STEM Careers are exciting career fields. He then awarded (3) unmanned flying units (Drones) to students, in the 9th-11th grades that are interested in the fields of Aviation, Computer Technology and Transportation.