Casa Colina Tribute to Courage Gala Honors Patients and Welcomes Laila Ali, Daughter Of Muhammad Ali
3/9/2017, midnight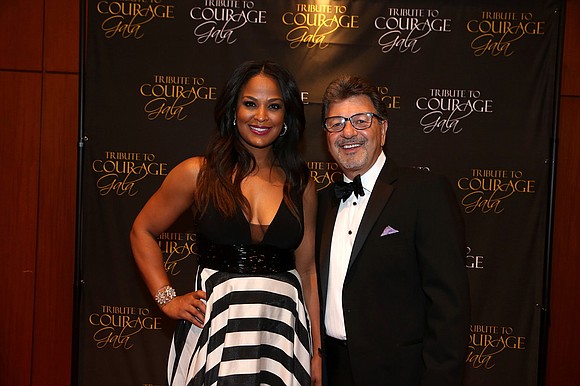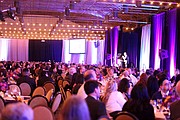 Pomona, CA--To help celebrate its nearly 80-year history of hope and healing, Casa Colina and over 900 event supporters welcomed Laila Ali as the special guest speaker at its Tribute to Courage Gala recently at the Sheraton Fairplex Hotel & Conference Center in Pomona.
The Tribute to Courage Gala honors Casa Colina's past and present courageous patients as well as those who work toward collaboration and research to improve patient outcomes and quality of life.
This year's event honored Brent Watkins, a college student and basketball player who suffered a traumatic brain injury in 2015 as the result of an automobile accident. Brent's progress and recovery through Casa Colina's continuum of care has been monumental and he has recently returned to his studies at Citrus College and Mt. San Antonio College. Also honored was Nancy Smith, a wife and mother who was also involved in an automobile accident while travelling with her daughter's Girl Scout Troop in Canada in 2008. Nancy suffered a spinal cord injury that left her paralyzed from the shoulders down. Her 3-year+ participation in a medical research study at Casa Colina continues today and has helped to promote the understanding of skills and abilities of people with tetraplegia by using computer technology and sheer "brain power".
Guest keynote speaker Laila Ali, daughter of the late beloved global icon and humanitarian, Muhammad Ali, is a four-time undefeated boxing world champion, whose stellar record includes 24 wins and zero losses. Laila is heralded as the most successful female in the history of women's boxing. She is also a fitness and wellness expert, television personality, cooking enthusiast, and founder of the Laila Ali Lifestyle Brand.
The event was hosted by Renee Lawless, a well-known theatrical actress and singer. A special musical presentation was also made by Gloria Loring, mother or Robin Thicke and recording artist of the #1 hit song "Friends and Lovers" and singer of the television theme song for "Facts of Life". She also played the character of "Liz Chandler" on "Days of Our Lives".
"We would like to thank the wonderful Laila Ali, Renee Lawless, Gloria Loring and our very generous donors who helped make this event such an incredible success," said Dr. Felice L. Loverso, President and Chief Executive Officer of Casa Colina. "What made this night so memorable was being able to honor the indomitable spirits of Brent Watkins and Nancy Smith. We are humbled by their relentlessness and pursuit of living their lives to the fullest potential."
The Tribute to Courage gala is Casa Colina's primary fundraising event and this year's event rose over $500,000. All proceeds benefit Casa Colina's free and uncompensated care fund, which helps provide care for under-resourced patients and, in some cases, temporary housing for patients' families so they may be near their loved ones during the often-lengthy rehabilitation process. This fund allows Casa Colina to continue its unwavering dedication to its mission statement of "providing individuals the opportunity to maximize their medical recovery and rehabilitation potential efficiently in an environment that recognizes their uniqueness, dignity and self-esteem."