Lawmakers Urge Low-Income Households to Take Advantage of CA Earned Income Tax Credit
3/2/2017, midnight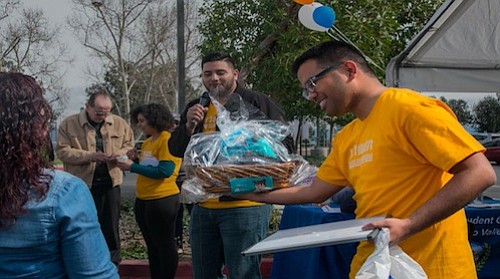 San Bernardino, CA-- Tax preparers from the Volunteer Income Tax Assistance (VITA) program filed the returns of at least 70 low- and middle-income families and individuals for free on Saturday, February 18 at San Bernardino Valley College. The filing drive was hosted by CalEITC4Me, a statewide campaign which has partnered with VITA to spread awareness about California's earned income tax credit (EITC).
Festivities included music, food, face-painting and paperwork at the "Tacos and Taxes" event.
"Our working families need a boost," House Rep. Pete Aguilar (D-CA) of the state's 31st district told attendees at Saturday's event. "They need help, and programs like this are so important to make sure they have an opportunity to succeed and advance their families."
Last year, the new California EITC distributed nearly $200 million to some 377,000 low-income households, according to the chair of the California State Board of Equalization, Fiona Ma. Claimants who submitted their tax returns were credited an average of more than $500, but some taxpayers stand to gain almost $2,700 if they file this year, depending on the size of their families and incomes. Currently, a family of three would have to bring in less than $14,000 a year to qualify for the California EITC.
Ma is currently sponsoring a proposal authored by California Assemblywoman Anna Caballero (D–Salinas) that would make it easier to qualify for the credit. Assembly Bill 225 would increase the threshold of eligibility to $21,840, which is equivalent to single year's earnings at minimum wage.
The state credit has had a significant impact on the livelihoods of working people since lawmakers approved the program in June 2015, according to Ma and others engaged in efforts to encourage more taxpayers to take advantage of the tax credit.
The money often goes toward a family's necessities like food, shelter, transportation, or clothing for their children, according to Joe Sanberg, the founder of The Golden State Opportunity Foundation, which is the nonprofit behind the CalEITC4me campaign.
"I know ... people are using their California earned income tax credit to create a better life for their families and better, safer homes for their kids," said Sanberg during Saturday's filing drive.
A number of those who qualify for the California EITC work part-time while attending universities or community colleges, and will likely use their tax refunds to help fund their educations, according to San Bernardino Valley College board member Frank Reyes. He says the state credit, along with the federal EITC and special tax incentives for college students, can go a long way in paying for expenses like textbooks, tuition, and parking.
Last year, some 67 percent of those who qualified for the California EITC actually filed their taxes, which was an extraordinary result for a brand-new program, according to Sandberg. However, the remaining 33 percent of unfiled returns equates to thousands of households that missed out on significant financial assistance.
Every year, billions of dollars in federal refunds go unclaimed nationwide, according to Jerrie Muir, a tax consultant representing the Internal Revenue Service at Saturday's event. He told New America Media that leftover money just sits with the treasury department and never returns to taxpayers because hundreds of thousands of Americans choose not to file.