IVN Co-Publisher's Pen
Ta Lese Shatterra/ IVN Co-Publisher | 3/2/2017, midnight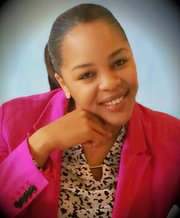 Upland, CA--March is women's history or her story (as I like to call it) month. It is when women all across the globe are celebrated. Women everywhere have stories that should be shared and recognized. Often times we as women do not get the credit we deserve for the work we as women do. We, not only raise families, keep houses, prepare dinner, we also start fortune 500 hundred companies, we are Attorney Generals, we are Mayors, we are Pastors. We are somebody! What I will be doing this month is sharing little tid bits about women in my life who have used their history to help make my history.
This week, I would like to celebrate my mother! I want to celebrate my mother because she always displayed that unconditional love. I watched her go after things in life she wanted and made them happen!
She is my shero. My mother taught me many things that I still hold onto today. She has taught me to persevere through all of life's ups and downs. My mother has instilled in me integrity. It is the same integrity I am instilling in my daughter. She has always been a mother who was meek and mild. She is a woman of distinction, true to herself, her family, and most importantly to Christ.
I know her to be a gentle soul, nurturing, and caring woman. She overcame life happenings and made her own way. She is my sister, my friend, my confidant, my mother, Mrs. Cynthia Clay.
I would like to dedicate this poem titled You Are My Heart and Soul written by Elizabeth A. Robinson to my mommy.
Thank you...
For standing by me through thick and thin; For not giving up on me when I didn't win; For your patience when I kept pushing you away; For caring when I said I didn't need you anyway
I am grateful knowing...
I can count on your strength; Ask for your support, and know you'll go to any length
When I lose my way; You help me get back on track; When in pain; Your comfort soothes, and brings me back
I am lucky because...
When I was sad you gave me faith and hope; When I was confused, you taught me how to cope; When I felt, I couldn't go on; You carried me long miles
When I didn't believe; You restored my smiles
Mom, thank you
For your guidance and the faith, you've shown; For giving me a safe place where I have grown; For showing me how to strive; Because of your love I will survive
Until next time,
Ta Lese Shatterra
Co-Publisher, Inland Valley News