Inland Valley Uplift Foundation to Hold 8th Annual Youth Leadership Conference
By: James Wilson | 3/2/2017, midnight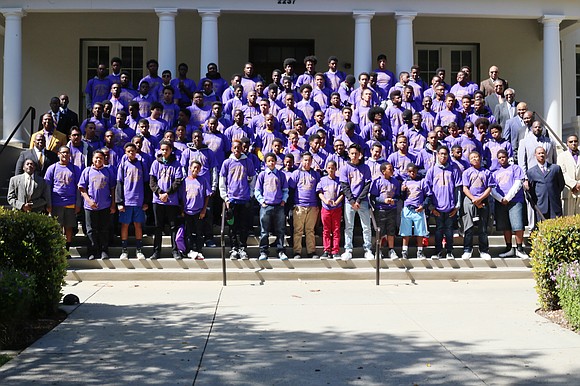 LaVerne, CA--The Inland Valley Uplift Foundation (IVUF) with the assistance of members of Zeta Tau Chapter of the Omega Psi Phi Fraternity will host the 8th annual Youth Leadership Conference (YLC) Saturday, March 04, 2017. The conference will be centered around helping young men in grades five (5) through twelve (12) and their parents will be held at the University of La Verne.
Through the years, over 100 young men have participated in the program.
This year's conference theme is "Believe inYourself". The IVUF is dedicated to helping these young men to project a positive image and becoming productive members of society. We are committed to working with our youth and helping them take advantage of available opportunities that will help prepare them for the future.
Students attending the conference will be able to network in workshops dealing with science, technology, engineering and mathematics (STEM). They will hear from representatives who will speak with them about preparing for life after high school. Participants will also interact with STEM professionals who are currently working in these career fields.
Michal Haynes currently with the Air Quality Management District (AQMD) will conduct the STEM program. At this year's Conference, both Students and Parents will be given the opportunity to attend a Workshop on STEM- Career and College Preparation's. The STEM Program, is an (IRS tax exempt), program promoting STEM Career's and College Majors, among 6-12 grade Students in Southern California.
In the College Prep segment of the STEM Workshop, Middle and High school students, will discuss how to plan for a College major in Science, Technology, Engineering or Mathematics; and Careers of the Future I.e. Transportation Management, Bio/ Environmental Engineering, Genetic Modified Foods (GMO), Cellular /Computer Technology /GPS, UAS (Drone Systems Operator) and Hazardous Waste and Materials Management. In the second segment, Academic Enrichment segment, students are provided academic assistance with counseling in the following subjects: SAT-Prep, Algebra, and Calculus, College Prep-Science w/Lab Dissection, Physics, Chemistry and Computer Technology.
Students will be matched with professionals currently working in these career fields to provide information on the opportunities available in these demanding college majors and career fields. In closing, this year's YLC, plans to address social morals, a better way of life, and teach students and parents the fascinating and lucrative area of STEM-College Prep and Career Options.
A session on College and Communication for 5th through 8th graders will be conducted by Keith Parker, Founder of REAL Mentoring Academy, Inc. This session will aide in getting these young to believe in themselves and focus on achievement.
Other aspects of the program will be directed to mothers and fathers of the youth who will be attending.
The Mother's program coordinated by Ronnie Walker, focuses on educating our mother's on raising a better child and helping him reach manhood.
The Fatherhood program, coordinated by Dr. George D. Taylor, is designed to share specific information with fathers that will help them appreciate the role of the father in the growth and development of their sons. Attention is given to factors that are significant in strengthening the family and father-son relationship; Understanding the place of values in building a strong family: The Communication Process, how it affects relationships: Understanding California's Child Support System: Financial Management and Planning: and The Police and You. Fathers will come away with actionable information designed to help close the gap of father absence from the family.
Seating is limited; for information about the conference, contact James Wilson, Inland, ivuf@yahoo.com or Inland Valley Uplift Foundation at 909.923.8100.