Ashon Crawley:To Be Held by Moonlight
By Ashon Crawley, Ph.D | 3/2/2017, midnight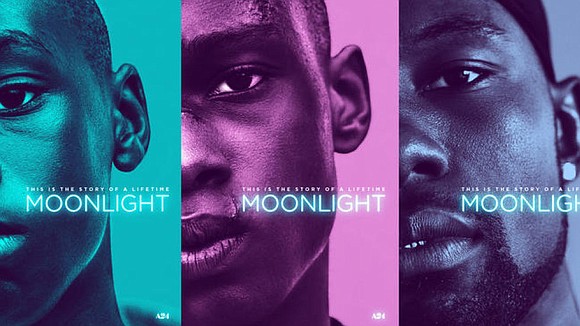 There was no church scene. There were no tambourines or drums, no preachers loudly proclaiming Leviticus 20:13, Romans 1, and 1 Corinthians 6:9. There were no flamboyant choir directors, teenagers named Arthur or bluesmen named Jimmy; no John or Gabriel Grimes; no Elishas.
Yet, this film, Moonlight, directed by Barry Jenkins, could've been James Baldwin's, could've been his fictional narrative. And this is because Moonlight, like Baldwin's work, is all about feeling. And in that way, like Baldwin's work, it's also then about blackness, religion and the failure to find sanctuary in the most ordinary, everyday, supposedly safe spaces.
I don't even remember his name. I sorta remember his picture from AOL—a chatroom, but which one, I don't remember either—but I remember how I felt. I was experimenting, a high school senior with a college sophomore. I remember I didn't like him much, that who he was, what he said in his profile, and his picture didn't match the person that showed up at my door later. But I wanted to try because I'd felt so alone that I let him in anyway.
I remember thinking that I'd go to hell as soon as he left my parents' house.
It was around 3:50 p.m. and I walked him to my bedroom, up the creaky stairs that made too much noise. I had an hour and maybe 10 minutes. He'd have to get in and get out before my parents got home. His breath stank. His Afro was asymmetrical. We barely did anything at all. I have not seen him since that first, and thus last, day. I let dude in my house because I wanted to be touched and wanted to feel wanted. I let him in my house because I was seeking connection.
I'm thinking about this, and so many other random encounters, because what Moonlight highlights so well is a kind of loneliness and desire that can lead to all kinds of random encounters. Random encounters that are grounded in touch. Random encounters of intense feeling include Juan (played by Mahershala Ali) reaching out and extending care to a little boy he didn't know but felt a kinship with, an affinity to. He touched Little (Alex Hibbert), held him gently in water, baptized him to life as possible.
Random encounters of intense feeling include Paula (Naomie Harris) and her addiction to crack, how she went from moods of intense love to explicit and harsh rejection of her son. She was touched, too, by Black (Trevante Rhodes) as tears streamed down her face.
Everything in the film, this masterpiece, was a reach for connection.
Little, then Chiron (Ashton Sanders), then Black, at each stage of Moonlight, felt the touch of Kevin. In such touch was sanctuary and refuge, in such touch was gentleness and quiet. A kind of quiet that was softly vibrational. For Black, in Act 3 of Moonlight it is revealed that he'd not been touched since Kevin in high school. Was it just the teenage experimentation on the beach, head held in hand, hand gripping sand, he meant? Or did he also mean the violent touch on high school property, the confrontation with Kevin?