The National Sports Beat with Brad Pye Jr.
Brad Pye Jr. | 1/19/2017, midnight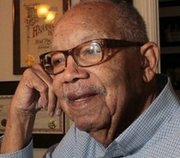 Los Angeles, CA-Notes, quotes and things picked up on the run from coast-to-coast and all the stops in between and beyond.
Even before the L.A. Rams and L.A. Chargers' new coaches Sean McVay of the Rams and Justin Turner get their bags unpacked L.A. Times writer Michael Hiltzik says: "The NFL will eventually get tired of Inglewood too."
Inglewood Mayor James T. Butts has a different view point. The Mayor declared: "It's one of the perks of being a CEO."
The Rams new head coach made a big splash by immediately hiring Wade Phillips as the Rams' new offensive coordinator.
Wade Phillips was recently fired as head coach by Denver Broncos.
UCLA still has only one defeat after edging Utah, 83-82 as the clock ran out.
Coach Doc Rivers' Clippers cut down the Lakers 113-9 7. Star guard Chris Paul and standout center DeAndre Jordan for 24 points, 21 rebounds and Jordan finished with a 20-- 20 game of his career.
Brad Pye Jr. can be reached at switchreel@aol.com