Are You Drowning in Debt? New Ways to Tackle Your Budget in 2017
Cameron Huddleston /TNJ | 1/19/2017, midnight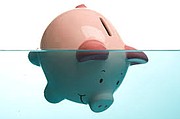 Debt is a growing problem in America. Total household debt was $12.35 trillion at the end of the third quarter of 2016 — up $63 billion from the second quarter, according to the latest figures available from the Federal Reserve Bank of New York. The bulk of that amount was mortgage debt, followed by student loan, auto loan and credit card debt.
What's perhaps more troubling than the fact that household debt is increasing is that the amount of debt that is delinquent — payments that are 30 days or more late — is growing. Clearly, some Americans are having trouble paying their debt.
Whether you're drowning in debt or just want to pay down what you owe more quickly, there are several budgeting strategies you can use. Here are some ways to take control of your spending this year.
CREATE A YOLO BUDGET
If "you only live once" is the mantra that has fueled your spending and debt, it's time to rethink what YOLO really means.
"YOLO is not just about one moment but a lifetime of moments," said Jason Vitug, author of "You Only Live Once: The Roadmap to Financial Wellness and a Purposeful Life." If you have debt, it can prevent you from doing the things you enjoy in the moment and reserve your future time for work rather than fun, he said. That's because you'll be chained to your job in order to make enough to pay what you owe.
So, if you want to create a budget you can stick to, you need to start by changing your mindset about debt.
"I've learned people get depressed when tackling debt because they don't really understand what debt-freedom actually means in their lives," Vitug said.
With a YOLO budget, you start by figuring out what you really want in life. Have a clearly articulated vision and use that as a guiding principle to save, mindfully spend and pay off debt, Vitug said.
"You can create that amazing budget that prioritizes debt repayment, but if you don't have an overarching vision of what you'll do when you're debt free, it will be very difficult to get out of it," he said.
Write your vision statement at the top of your budget as a reminder of how allocating your money to debt repayment and aligning spending with priorities will help you reach your goals. Vitug said that you can also include in your vision statement how you expect to feel when you're living the lifestyle you want and photos to illustrate that lifestyle.
The budget will include the actual numbers — how much cash you have coming in each month, the necessary expenses you have to cover and the amount you can allocate to debt repayment, savings and things you truly want. The vision statement is the motivation to stick to that spending plan, so you can pay down debt and live the life you want.
USE DIGITAL CASH ENVELOPE BUDGETING
Paying with only cash isn't a new approach to budgeting, but it might be a novel idea for someone who's been relying on credit to fund spending.