A Watch Night to Remember
1/12/2017, midnight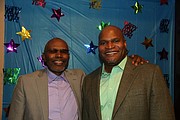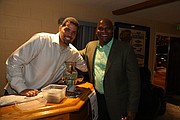 La Puente, CA--St. Stephen's Missionary Baptist church in the city of La Puente, CA, Pastored by Dr. Anthony L. Dockery, was the perfect place to be Saturday evening at 10:00pm to bring in the 2017 New Year. Gospel recording artist, Deborah Barber and her Co-Chair Keith Hanson along with their team of church members coordinated this wonderful celebration!
Members, guests and friends were honored to welcomed television star and legendary actor, Mr. Ernest L. Thomas: Host for the evening, Mr. McClinton Neal, The Clean Up Man of Comedy and recording artist Victor Bell & Halel.


Mr. Thomas, an undergraduate from Indiana State University and the prestigious American Academy of Dramatic Arts in New York City, is the President and CEO of Ernest Thomas Media Group 8 and Bravo kid Management.
He is best known for his starring role as Roger "Raq" in the popular 1970s ABC sitcom, "What's Happening" and its 1980s syndicated sequel, "What's Happening Now" and for his recurring role as Mr. Omar on the TV hit series, "Everybody Hates Chris" as Mr. Omar." He has over 40 years of experience and achievement in Theater, Television and films. He was Cast opposite Denzel Washington as "Sidney X" in Spike Lee's epic "Malcolm X" film.
Actor, and singer turned playwright, author and producer Don B, Welch has cast Ernest in a six (6) of his stage plays starring such celebrities as: Ledisi, Loretta Devine, Jacob Lusk, Vanessa Bell Calloway, Essence Atkins, Adai Lamarr and Flex Alexander to name a few.
This West Angeles Church of God in Christ (COGIC) member was personable, engaging, warm and funny with that iconic laugh of the entire evening as he hosted for the evening and mingled with his fans.

Olympic hurdler and graduate of the University of Texas @ Arlington, McClinton Neal also known as "The Clean Up Man of Comedy" has always enjoyed laughter with his family and friends. At St. Stephen's New Year's Eve Watch Night service, he created a hodgepodge of versatility humor and variety.
Neal has performed in some of the most notable showcases including: The Improv, The Laugh Factory and the Comedy Store, and has been seen on ABC's General Hospital, CBS' The Young and Restless, BET's Comic View and the Tavis Smiley Show.

Victor Bell & Halel of Oxygen's network hit show, "Fix My Choir with Michelle Williams (Destiny's Child) and renowned gospel star Deitrick Haddon displayed his gift of writing, teaching and directing Saturday evening as well. Founder and Senior Pastor /Teacher of Praise House Worship Center in Los Angeles CA is truly a gifted musician with a group of singers that bless the congregation with their melodic harmonies.
He served as a music consultant for Stan Lathan (TV director, Sanford & Son, Fresh Prince) for such TV shows as The Steve Harvey Show (whenever Steve appeared to be playing the piano it was Victor behind the scenes playing),.
Rev. John B. Nickens and 6 vocalists that represented 4 different choirs from St. Stephen began the service with Praise & Worship.
Rev. John Johnson's sermonette, derived from the book of Philippians 3:13 -14, was a blessing to all.
Pastor Anthony Dockery ended the service with the benediction, remarks and welcoming the New Year.