The National Sports Beat with Brad Pye Jr.
Brad Pye Jr. | 1/12/2017, midnight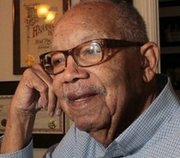 Los Angeles, CA--Notes, quotes and things picked up on the run from coast-to-coast and all the stops in between and beyond.
The controversial U.S. Presidential race won by Republican President-Elect Donald J. Trump vs. Democratic nominee Hillary Rodman Clinton is the biggest political sports story of the world.
The Storm Warnings, rains and flooding from coast-to-coast and all the stops in between and beyond.
Will 2017 be the year Barry Bonds and Roger Clemons actually get voted into baseball's Hall of Fame or just get enough votes to remain on the list for future inductions. In my book, their introduction should have been happening before now.
And the beat continues!
I'm not surprised Alabama's famed coach Nick Sabin cut the controversial Lane Kiffin as his offensive coordinator on the eve of the Crimson Tide's National Championship game vs. Clemson Tigers led by QB Desaun Watson, back-to-back runner up in the Heisman Trophy race and his Clemson Tigers.
Who is the most scrutinized player in the NFL? Could it be Odell Beckham Jr. of the New York Giants? I think so!
The USC's offensive standout, QB Sam Darnold (QB record five TDs, most in the game's history) and a new yarder mark of 453 yards and scoring standard of 62.3%.
The Trojans and Penn State total of their score of 52-49 was a record for any other bowl Classic in history. Darnold threw a TD for a TD with 1:22 to go and set up the winning FG by Matt Boermeester.
Others included in SC's offensive parade were Deontay Burnett, Leon McQcuay III, Matt Boermester, Wayne Schmidt Zach Smith, Adoree Jackson, Juju Smith-Schuster et al.
And that's it!
Alabama's Head Coach Sabin, No.1! Crimson Tide Team No.1! Alabama's QB Jalen Hurts No. 1! All of these No.1s went by the boards by Clemson's Head Coach Dabo Swinney No. 1, QB Jason Watson No. 1!
Clemson No. 1 Defensive End! Everything replaced all of Alabama's No. 1s! by Clemson's No. 1s to earn right to capture the National Championship. Clemson the winner of this year's Championship. Score: Clemson 35 Alabama 31.
The movie Hidden Figures staring Taraji P. Henson, Octavia Spencer and Janelle Mon'ae. could be used to demonstrate how African Americans are credited for making diversity in sports look like American dream. The man who starting making intergration the American way in 1947 by breaking the color line in major league baseball by Jackie Robinson with the then Brooklyn Dodgers.
All sports of the world should bow down and pray; "God thank you for giving us Jackie Robinson."
If the national title contending Clemson Tigers should lose Heisman Trophy candidate Deshuan Watson, as expected. He will be replaced by another QB of color in Kelly Bryant. Bryant is something special too.
USC's sophomore QB Sam Darnold should be in the Heisman Trophy mix after his superb play in Troy's historic 62-59 comeback victory vs. Penn State.
LSU with QB Lamar Jackson back as the man behind center, the Tigers may have the best signal caller in college football.