Auto Market May Ease off the Gas in 2017
Joe Taschler/TNJ | 1/12/2017, midnight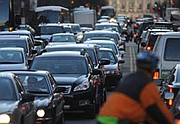 Nationwide--Coming off what may turn out to be its best back-to-back sales years ever in 2015 and 2016, the U.S. automotive business appears to be easing off the accelerator a bit heading into 2017.
For consumers, that means there are bargains to be found.
"The bottom line is sales (rates) are still pretty high, but they are plateauing and it is taking more effort in terms of promotion and incentives to keep sales higher. And we expect that will be more of the same next year," said Michele Krebs, senior analyst for automotive website Autotrader.
With sales leveling off, inventories are rising. "When inventories rise, automakers put more incentives on," Krebs said. "Incentives are the highest they have been in a long time."
For consumers, some of the best deals to be found are on cars rather than SUVs, crossovers and pickup trucks, said Jim Tolkan, president of the Automobile Dealers Association of Mega Milwaukee.
"There are certain cars that are absolute bargains," Tolkan said — especially compact, subcompact and midsize cars.
"There's been a huge shift — even significantly greater than last year — from car sales to pickup trucks and even more so, crossover vehicles and SUVs," Tolkan said.
Nationally, new vehicle sales are about 70 percent light duty trucks — "everything from a (Toyota) RAV4 to a Kia Soul to a GMC Yukon," Tolkan said, and about 30 percent cars.
"I think there is a little push-back on the cars," said Frank Boucher, president of the Boucher Automotive Group, which has locations across southern Wisconsin.
"People have always enjoyed their pickups and sport utilities," Boucher said, adding that "40 percent of Nissan's business the last couple months has been the Rogue," a small sport utility.
Beyond the growth in sales of SUVs and pickups, an overall inventory shift is forecast for 2017 as thousands of leases are up. That could mean some decent deals for used car shoppers in 2017.
"When all those cars are coming back from leases, they have to go someplace," Tolkan said. "That will be a benefit to a true used car customer."
Boucher said that leasing can make up as much as 50 percent of the business at some of the Boucher Group stores.
With leased vehicles, having become so popular, "This next year, we are going to see an enormous number of those come back in off of lease," Krebs said. "For the savvy consumer, those might be the best buy."
Jesse Toprak, who started working in the automotive business 20 years ago at a southern Wisconsin dealership and now is CEO of automotive website carhub.com, points out that cars coming off leases are often good deals.
"Somebody else took the initial depreciation on the car, and you can still get a car with a good amount of warranty," Toprak said.
Among other things that may have an impact on the automotive business in 2017 is the Federal Reserve's recently announced interest rate increase.
Additionally, the stock market remains on a straight-up rocket flight that has sent some interest rates higher, especially for mortgages.