What A Season For The Los Angeles Rams!
Gary George / IVN Sports Writer | 1/5/2017, midnight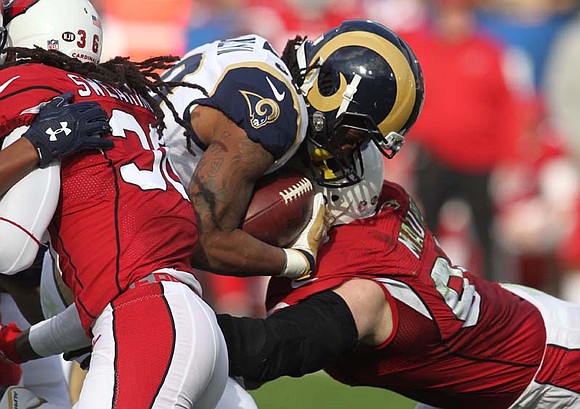 Los Angeles, CA--With the expectations high and performance low, Jeff Fisher had to go. Well, after that decision was made, the Rams continued to lose the remaining three games under interim head coach John Fassel. On Sunday, New Year's Day, the Los Angeles Rams had an opportunity to win their final game of the season against the Arizona Cardinals. It would have been a great way to end the six game losing streak on a high note. However, the non-playoff bound Cardinals (6-8-1) simply dominated the Rams (4-11) by winning 44-6. After losing a close contest last week against the San Francisco 49ers (21-22), the estimated 80,729 fans were hopefully expecting to see a superstar performance from Jared Goff (QB) and Todd Gurley (RB). However, as goes the leaders, so goes the team! It didn't take long to see the superior performance by the Cardinals exposing the flaws in the Rams' offense and defense. The Rams had some highlight plays that were invariably nullified by either a turnover or penalty. For instance, a 38-yard touchdown run by Tavon Austin was erased by an illegal motion penalty by Goff. Another play that put the Rams in scoring range was a 19-yard interception by Maurice Alexander from Carson Palmer. However, on the very next play by the Rams, it was Pharoh Cooper (WR), not Goff that threw an interception for a 66-yard pick-six to Justin Bethel (CB).
The Rams only scoring came in the second quarter by way of two field goals from Greg Zuerlein (K). The effort by Goff totaled 13 of 20 for 120 yards. And it was a surprise to see backup quarterback Sean Mannion inserted in the game that was 3 of 6 for 19 yards. The running and receiving categories were led by Gurley with 40 and 37 yards respectively. The Cardinals were led by Palmer with 20 of 38 for 256 yards, 3 TD's. His leading receiver was J.J. Nelson (WR) with 75 yards.
You would have expected a better competitive contended contest by the Rams, unfortunately it will have to wait until next season.
"Unsuccessful, because we didn't get a win," said coach Fassel about the positives of the season. "But on a personal level, it was probably the best coaching experience of my life. It's definitely something that I'll never forget." When Goff was asked about the positives for his season, he said, "I think there's a lot of things. I think you can learn a lot about yourself, a lot about your teammates, a lot about how not to do things and that sometimes can be the best stuff. You can learn from the bad things. In life and in football and everything you do it's not always going to be up, up, up, up, up all positive...It's a pretty simple concept. If it's not going very well learn from it." He finished the season completing 112 of 205 for 1,089 yards. "I felt like he did good, said Gurley about Goff. "Obviously, it was a lot of struggles with protection. He probably got hit more than me, actually. Just got to protect him...He's a young quarterback. He's going to be great. He's definitely going to get better." As for Gurley, he finished the season rushing for 885 yards averaging 3.2 yards per carry. With regards to upcoming changes with the team, he said, "I'm not going to get into all of that. It's just kind of is what it is at this point. Just going to try to enjoy this offseason a little bit, and get back to work."
In spite of having a losing record, the Rams are back and the fans are elated. With all of the adjustments in the transition from St. Louis, it can only get better from here. T.J. McDonald (S) summed it up by saying, "Camaraderie with my teammates. Going through a lot of different things, I don't think we'll ever have a season as challenging as far as the move from St. Louis and all that. Us coming together and all that, so that's the most positive." The Rams final record was 4-12, surely it will get better next season. Go Rams!