The National Sports Beat with Brad Pye Jr.
Brad Pye Jr. | 1/5/2017, midnight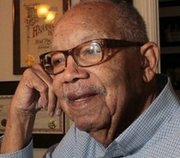 Los Angeles, CA--Notes, quotes and things picked up on the run from coast-to-coast and all the stops in between and beyond.
Before USC and Penn State took the field for the 103rd Rose Bowl Game a trio of great Olympians took the field as Grand Marshalls. They are Janet Evans, Allyson Felix and Greg Louganis.
The Trojans jumped off to a 10-0 start in the first 10 minutes of the game. USC went on and took a 27-21 into the locker room at half time.
As Deonta Burnett scored a pair of TDs and Darreus Rogers scored once to help the Trojans continue to rock steady. All American Adoree Jackson did his thing returning a punt and kickoff for 13 and 25-yards respectively. Just after the bell rang from half time Penn State went ahead 28-27.

Seniors Christian McCaffrey, the versatile Stanford running back and LSU's stellar back Lanard Fournette are passing up their bowl games to prepare for the NFL draft.
Are their teammates upset? You bet they are!
Tulsa's QB Dane Evans passed for 304-yards and five TDs to sparked the Hurricanes to a 55-10 Miami Beach Bowl win over Western Kentucky, Evans passed for two TDs and upped his TD
career record to 84. Forrest Lamp got into the scoring act on a nine-yard dash.
Seven Oakland Raiders, six Atlanta Falcons are selected for the Pro Bowl. The Dallas Cowboys rookies Dak Prescott and Ezekiel Elliott were also picks for the Jan. 26 game. Prescott and Elliott are MVP candidates. Elliott is a student of the game and tough to handle.
Louisville's Heisman Trophy winner Lamar Jackson was in the gym Tuesday night to watch his school upset No.5 Kentucky 73-70.
It was homecoming for Larry Farmer, ex-UCLA star, assistant and head coach but his old school prevailed with a 82-68 over Western Michigan. This made the Bruins report card 13-0.
Of the 22 players selected on the offensive (3) and defensive (one) first teams on the 2016 ALL-USA high schools squads are limited to a total of four. Shaun Wade was picked as the Player of the Year, The duo are candy bar fans. Dak Prescott is the one who keeps the candy box in his locker.
Check This! USC's Adoree Jackson's take on whether it would have been ok for him to skip the annual Pasadena Rose Bowl Classic. "This another chance to get some more film out there," Jackson added; "Just to show out a little bit more, and time for people to see what you're are capable of."
Actress Carrie Fisher, 62, the daughter of Eddie Fisher and Debbie Reynolds, 84 of Hollywood Royalty died a day apart last week at her son's home in Beverly Hills.
At the moment the USC Trojans joined UCLA as a once beaten basketball team in the city. Oregon knocked off both the No. 2 ranked and previously undefeated UCLA, 89-87 last week and USC 84-61. UCLA will undoubtedly move down the scale and USC should move down in the standings too.
Notre Dame's QB DeShone Kizer is rated as the best passer available for the NFL Draft. There is a need for QBs who are ready to start right now by NFL clubs.
There is a real fist fry set between two of the real hot cookin' QBs on display, the host Seahawks' Russell Wilson and the Detroit Lions' Matthew Stafford.
Two of the best coordinators in the NFL are the Oakland Raiders' Ken Norton and the Detroit Lions' Ron Phillips,
Coach Jim Mora of UCLA doesn't feel so lonely today after the whipping Coach Franklin Harris and his Nittany Lions thought they had put on USC at the Rose Bowl Monday night. SC didn't just whip Penn State in the day light they did it at nighttime too.
Final: USC 52 and Penn St. 49.
That's It! That's the end!

Brad Pye Jr. can be reached at switchreel@aol.com