Kirk Franklin & Hezekiah Walker Shed Light On Why Millennials Aren't Excited About The Gospel
By Victor Ochieng/ Yourblackworld | 1/5/2017, midnight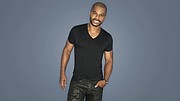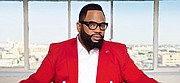 Kirk Franklin, the alleged gospel music gatekeeper, and Bishop Hezekiah Walker of Love Fellowship Tabernacle, a Brooklyn, New York-based megachurch, got a moment on "Get Up" studio to discuss issues relating to the gospel music industry. The show was hosted by Erica Campbell & GRIFF.
The two, who are both gospel music stars, talked about the good things and the challenges they've faced in the gospel music world this year.
Speaking of some positive elements, Franklin pointed out the success of young artists such as Travis and Jonathan.
What pains him so much, however, is the fact that the genre has been suffering so badly. Franklin says the challenges the industry is facing are quite saddening for him, being that he's a great lover of gospel music. Although some specific artists have registered success and growth, the industry isn't doing so well in general.
Franklin is not only worried about the industry challenges, but also the serious decline of Christ in the culture.
What Franklin is saying is very true. This is evident even in the kind of songs many gospel musicians are releasing and how they conduct themselves during performances. In fact, some have quite a worldly display, so much so that they make nonbelievers scorn gospel music.
Franklin passionately outlined some of the reasons he thinks millennials aren't so excited about church like it was with the young people of his time. One of these being that gospel musicians, who are supposed to serve as good examples, are letting young people down by not living lives worthy of the gospel.
Touching on the issue, Walker said millennials see gospel stars before hearing their songs or their gospel messages and are turned away by the many scandals that shroud the lives of gospel icons. This problem is not only seen among gospel musicians, but also among pastors and church leaders. From cases of married church leaders impregnating young girls and priests molesting children to embezzlement of church funds by "men of God," young people are being turned away.
Franklin further mentioned the fact that the church is making demands on young people instead of teaching them the importance of living holy lives. As a result, millennials who go to church only do so to fulfill a demand but not because of spiritual hunger for the good word.
Gospel musicians among other Christian leaders need to set good examples so that they win souls for the good work of Christ. And that's why Campbell specifically said it's quite important for Christians to remain steadfast in good work.