Supporting Entrepreneurs & Small Businesses Must Be A National Priority
Connie Evans / blacknews | 2/23/2017, midnight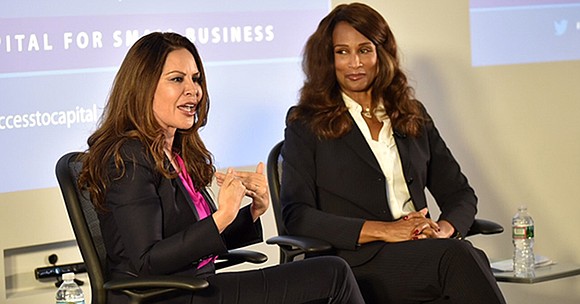 Washington, DC — After Noemi Prado had devoted 29 years to working for Southwest Moulding in Grand Prairie, TX, the owners decided to close the business. But Ms. Prado gathered her retirement savings and other financing to purchase the company, a transaction that has sustained and created jobs for 40 people in her community.
A key aspect of the financing was a $825,000 loan that she received from the Valley Economic Development Corporation's (VEDC), a non-profit organization that provides affordable business assistance services, direct financial assistance, and entrepreneurial training to minority businesses and entrepreneurs. "If it wasn't for VEDC, it wouldn't have happened," Ms. Prado said, noting that it was difficult to obtain traditional bank financing.
Research by the Association for Enterprise Opportunity (AEO) shows that a large percentage of people want to be like Ms. Prado and run their own businesses. At the same time, however, many would-be entrepreneurs lack the access to mentors, capital and support networks that could help them get up and running.
That's the problem our nation faces.
Small businesses are actually creating a higher percentage of new jobs than big companies, but entrepreneurs and small business owners struggle to get the access to capital and the knowledge, known as 'trusted guidance' in the microbusiness industry, that they need to start or sustain their businesses. The reality is that significant barriers limit opportunities for business owners of color. They face discrimination in the banking world, have fewer wealth assets, and often lack the technical skills, like financial management, to make their dreams and aspirations come true.
Yet, there are new developments that are slowly changing the landscape for minority entrepreneurs and small business owners.
Perhaps the most powerful is the changing demographics of the country, which corporate and government leaders are starting to better understand. The nation is moving towards a majority-minority status. Already, the majority of children born in the country are children of color. Thus, it's clear that the nation must become more inclusive with business opportunities or the pockets of poverty across the country will just grow larger. And, smart corporate leaders recognize that the growing communities of color are where future growth and expansions of their businesses should concentrate for sustained growth.
To-be-sure, part of the answer lies with Community Development Financial Institutions (CDFIs), which are getting more attention than ever before from both the public and private sectors. These mission-based organizations, which receive federal resources to invest in disadvantaged communities, are frequently where minority business owners turn when they need financing. But needless to say, the demand frequently outpaces their money supply.
One of the positives is the collaborations now taking place between major banking institutions and CDFIs and other organizations, such as VEDC.
For instance, this year JPMorgan Chase & Co. announced the Small Business Forward initiative, which will allocate $30 million over five years towards growing local, community-based small businesses. The program includes a combination of targeted lending to minority-owned businesses, new kinds of community development financing and technical assistance for entrepreneurs. Through this work, JPMorgan Chase is helping minority- and community-based small-business owners become engines of job growth and economic vitality in the neighborhoods they serve.