President Trump's Election, Says A Black Lives Matter Leader, Represents "An Escalation Of The War On Black Bodies And Lives."
2/16/2017, midnight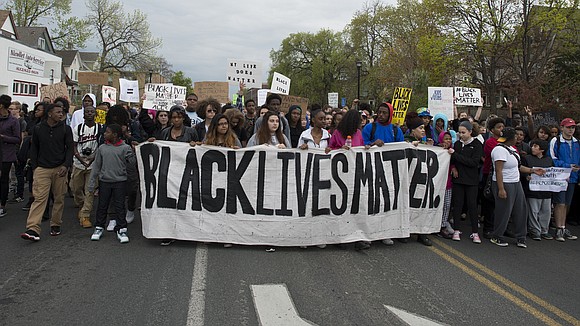 Nationwide--Trump's immigration order barring refugees and immigrants in particular "changed the rules of engagement," says Malkia Cyril, executive director of the Oakland-based Center for Media Justice, part of the United Front. The new president's agenda, she says, represents "an escalation of the war on black bodies and lives." Approximately a quarter of Muslims in America are black, she notes; Trump's order blocked immigrants from the African countries of Sudan, Libya, and Somalia, among others. "The issue is the culture that gets created that is anti-Muslim, anti-black, anti-brown, anti-woman," she says.
"We have tons of black folks that are going to be affected by the potential cutting of DACA," says Dante Barry, director of New York City-based Million Hoodies for Justice, referring to Trump's plan to crack down on undocumented residents. "We're going to have black folk that are going to be impacted by the cut of the Affordable Care Act."
Following Trump's election, I interviewed leaders and local organizers with seven groups participating in the United Front about their plans for confronting the Trump era. I also talked to an organizer with an eighth group, Campaign Zero, whose cofounders include Deray McKesson, perhaps the movement's most visible organizer. All of these activists reiterated that police and criminal justice reform will remain a priority, but that other issues have become equally urgent.
In the wake of Trump's immigration order, BLM organizers mobilized their networks to turn out at airports to protest. The groups also fired up their social media networks to amplify calls for the release of detained travelers. BLM leaders say their strategy will evolve as more details become known about what Trump plans to do on matters ranging from policing and reproductive rights to climate change and LGBT issues. They will focus on combating what they see as Trump's hostile, retrograde agenda—and that of right-wing politicians emboldened by Trump—primarily at the state and local levels.
Immigration concerns are squarely on the radar for Million Hoodies, Barry says. The six current members of the group's chapter in Greensboro, North Carolina—all college students—are drafting sanctuary campus policies that they plan to pitch to school administrations. The group is also in talks with at least one other local group about how Million Hoodies can bolster their efforts to protect undocumented residents throughout Greensboro. Last fall, Million Hoodies Greensboro also supported a local campaign to repeal North Carolina's infamous anti-LGBT bathroom bill. "We just show up when folks need support," member Delaney Vandergrift told me. "Showing up at protests and community meetings. Amplifying on social media. Making signs. Anything that local organizations already doing the work are asking for."