The World Mourns The Passing of Musical Titan, Mr. Al Jarreau
By Monée Fields / The Root | 2/15/2017, noon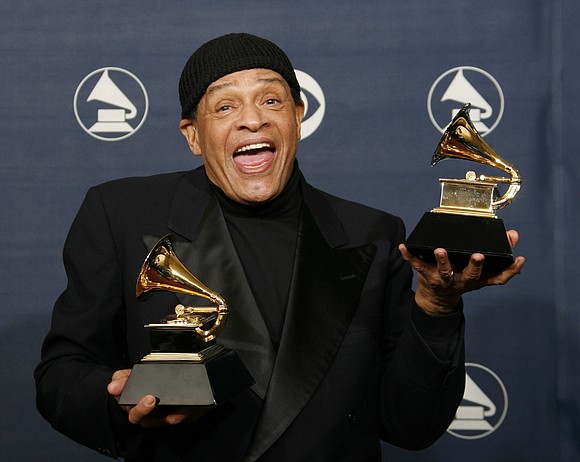 Born in Milwaukee on March 12, 1940, Alwyn Lopez Jarreau was the fifth of six children. His father was a Seventh-Day Adventist Church minister, and his mother was the church pianist. Jarreau pursued his musical gift at an early age. By age 4 he was singing in the church choir, harmonizing with his brothers. He also performed solos at local benefits.
Jarreau wasn't interested just in music, however. Although he did perform on the weekends with a local group known as the Indigos while he attended college at Wisconsin's Ripon College, he also pursued sports and took his studies seriously. Jarreau graduated with a Bachelor of Science in psychology and went on to earn a master's degree in vocational rehabilitation from the University of Iowa.
He moved to San Francisco to work as a social worker, but he was also singing in a small jazz club with a trio headed by George Duke. In 1967 he and acoustic guitarist Julio Martinez began performing together, and they became a hit at a nightclub in Sausalito called Gatsby's. The duo's success led Jarreau to pursue music full time.
He headed to Los Angeles, performing in local spots such as Dino's, The Troubador and Bitter End West. He also went to New York, where he gained national exposure appearing on television shows such as The Tonight Show Starring Johnny Carson and The Merv Griffin Show. Jarreau also performed at the comedy club the Improv between the acts of rising comic stars such as Bette Midler, Jimmie Walker and John Belushi.
It was during this period that Jarreau began writing his own lyrics and found himself reconnecting with his spiritual roots, although he pursued the less conventional United Church of Religious Science and the Church of Scientology. Jarreau didn't sign his first recording contract until 1975, when talent scouts from Warner Bros. Records saw him at the Bla-Bla Café in Los Angeles. His debut album, We Got By, earned him a German Grammy award for Best New International Soloist. Jarreau delighted music fans with his eclectic scatting style, which included tongue clicks and gasps and mimicked instruments such as the guitar and bass. He earned another German Grammy for his second album, Glow, and toured Europe for the first time.
He received his first U.S Grammy in the U.S., for Best Jazz Vocal Performance, in 1977 for his third album, Look to the Rainbow. It was a live album recorded in Europe, where he remained tremendously popular throughout his career. The record also contained one of his trademark songs, a vocal version of Dave Brubeck's "Take Five." He was awarded another Grammy, in 1978, for his album All Fly Home, which included cover versions of "She's Leaving Home" and "Sitting on the Dock of the Bay."
In 1981 Jarreau found commercial success as a pop artist with hit singles like "We're in This Love Together" from the album Breakin' Away (for which he won two more Grammys). "I'm not one of those fortunate recording artists who have the luxury of continually producing big-selling albums," he said in a 1986 interview with the Los Angeles Times. "I really have remained alive as a recording artist because I'm out there touring a lot. People come to hear the Al Jarreau live concerts and, fortunately, some of them buy records."
In the 1990s, Jarreau saw his record sales decline as the hip-hop and rap music scene, which appealed to a much younger crowd, gained momentum. But he continued to earn Grammys, including one in 1992 for Best R&B Vocal Performance for Heaven and Earth. He had a three-month stint on Broadway in 1996, playing the role of Teen Angel in the musical Grease. In 2001 he received a star on the Hollywood Walk of Fame. Jarreau also continued to tour throughout the 1990s and 2000s. In a 2002 interview, when asked whether he found it draining to sing with such passion and spirituality, he said, "Very draining, but I can tell you, it's the wellspring of life as well. … And when it's working, the audience feels it, too, and that, man, is Church."
Jarreau was married twice. He and his first wife, Phyllis Hall, were together from 1964 to 1968. He and model Susan Player, whom he married in 1977, had one son, Ryan.