The National Sports Beat with Brad Pye Jr.
Brad Pye Jr. | 2/9/2017, midnight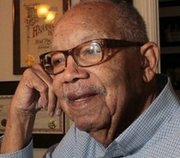 LOS ANGELES—Notes, quotes and things picked up on the run from coast to-coast and all the stops in between and beyond.
The Lakers 'Luol Deng, a native of South Sudan who has dual citizenship in Sudan and Britain. Deng says he's happy to be in America and he wants to help other refugees find homes in L.A. and other places, So if Deng doesn't invite President Donald Trump to dinner you know why.
If President Donald Trump had showed up at the Houston, Texas Stadium, fans would have booed him all the way to the White House in Washington. This is one time President Trump didn't show how dumb he really is!
President Donald Trump sent Vice President Mike Pence to the Super Bowl as his sub.
Everybody is talking about the two most celebrating freshman basketball players in the land--Lonzo Ball and Coach Lorenzo Romar's Washington's Markelle Fult Coach Romar is more than pleased with his star player.
However, Coach Romar is equally as happy with the play of his hero Markelle Fultz. Coach Romar told the L.A. Times this week: "The last time I saw something like this was Magic Johnson with the Lakers."
And the beat continues!
The Cleveland Cavaliers' LeBron James became the youngest NBA player to score 28,000 points. James scored 42 points Saturday vs. the New York Knicks to reach this plateau.
The Memphis Grizzles' first year head coach David Fizdale, is product of Fremont High in South Central. Fizdale says: "They had a lot of good things going on before I got there. They had toughness that was already built—a resiliency, a grit, a defensive mind set, I wanted to sustain those things and bring another level of accountability to view ourselves as champions."
And the beat continues!
Chino Hills' 60-game winning streak was snapped by Nike Extravaganza of Santa Ana Mater Dei. Lindell Wigginton led Oak Hills with 35 points. LaMelo Ball with 36 points for Chino Hills.
Paul Pierce made his swan stand at Boston Gardens with the L.A. Clippers,(who lost 107-102) his current team, Feb, 4.
Pierce, an Inglewood High grad won a title with the Celtics when present Clippers head coach Doc Rivers led Boston to an NBA Championship.
QB Tom Brady generosity shares his Super Bowl LI MVP honors with his New England Patriots teammates. Especially Malcolm Mitchell, who caught four passes for 187-yards and a pair of TD passes in their 34-28 victory over the fast starting Falcons who led 21-3 in the first half.

Four of the seven members of the 2017 Pro Football Hall of Fame are men of color. The foursome is the San Diego Chargers' LaDainian Tomlinson, Miami Dolphins' Jason Taylor, Seattle Seahawks' Kenny Easley (UCLA) and the Denver Broncos' Terrell Davis.
Tom Brady scored 31uanswered points to bring the New England Patriots to a 34-28 overtime victory in history to capture Super Bowl L1 (51), the greatest Super Bowl game ever, For Tom Brady this was his record-setting best in the Super Bowl Championship and his fourth MVP award.