USC Trojans Triumphant Over the UCLA Bruins
2/2/2017, midnight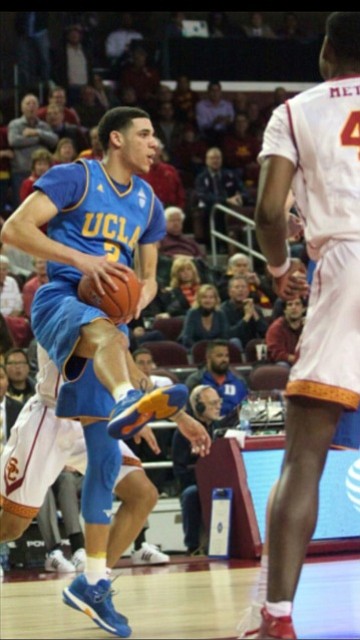 Los Angeles, CA -- The USC Trojans were certainly ready for their crosstown rivals against the previously ranked No.7/8 UCLA Bruins last Wednesday. The contest started off with the Bruins taking control of the game with an 8-0 run. Coach Andy Enfield wisely called a timeout to steady his team. It paid off, as they began to successfully score on the Bruins. The enthusiastic response inspired the team as they overtook the Bruins 29-28.
The shift in momentum favor the Trojans as they increased the lead to 37-28. The stifling zone defense of the Trojans had the Bruins baffled, thus resulting in missed shots and turnovers. The Bruins had 17 turnovers in the contest, and freshman sensation Lonzo Ball from Chino Hills High School had seven. With all the media spotlight on the Bruins, it simply increased the target on their back as a team to beat for validation. The Trojans had a greater intensity that prevailed against the high-powered offense of the Bruins that averages 93 points per game. The Trojans would close out the half on three-pointer by Elijah Stewart for an impressive 50-38-point lead.
In the second half, the Trojans kept the intensity high as they out hustled, out tussled, and out muscled the Bruins. Their comprehensive team execution exposed the flaws in this matchup against the Bruins. The Bruins clawed their way back at the 10-minute mark with an 11-2 run only to trail 56-60. The determination by Lonzo Ball and Aaron Holiday sparked the surge as the Bruins were on the move. However, Jordan McLaughlin hit a 3 pointer to keep a 7-point lead. With every move by the Bruins, the Trojans would immediately respond with a successful counterattack.
The performance by center Chimezie Metu (6-11, 225, So.) was very dominate with blocks, rebounds, and dunks. He simply outplayed TJ Leaf and Thomas Walsh. The Trojans prevailed in this contest 84 - 76, and dealt the Bruins their third loss. With the win, the Trojans improved their record to 18-4, 5-4 Pac -12. The Trojans were led by Shaqquan Aaron with 23, Elijah Stewart 15, De'Anthony Melton and Metu 13, and McLaughlin 10. The Bruins (19-3, 6-3 Pac-12) leading scores were: Isaac Hamilton 20, Ball and Holiday 15, Welch 13, and Leaf 8. The Trojans and Bruins will play again on February 18th, at UCLA.