The National Sports Beat with Brad Pye Jr.
Brad Pye, Jr. | 4/27/2017, midnight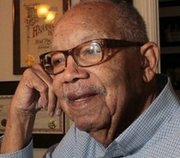 Los Angeles, CA--Notes, quotes and things picked up on the run from coast-to-cost and all the stops in between and beyond.
If Moms Mabley saw the Chicago Bulls' Robin Lopez today she would say: "Boy fix your hair."

Things I would like to see are the names of the sportscasters remain in front of themselves throughout the broadcast. Is this asking too much? .... No!
Dan Rooney, the Pittsburgh Steelers Chairman of the Board was loved and respected and he passed the other day, he was 84.
Rooney is the "Father" of the Rooney Rule which demands that NFL teams interview a minority candidate for every head coach opening. It was a tough job but Rooney got all 32 owners agree. This was a miracle!
The Steelers hired Tony Dungy as a third string QB and as a defensive back. Who later became one of the first black NFL head coaches. The Rooney family also drafted Tennessee States' Jefferson Street Joe Gilliam as a QB during the Terry Bradshaw era.
And during the time of Big Joe Green, Tall Joe Long et al the Steelers look like Eddie Robinson's Grambling State Tigers with QB James Harris, Ernie Ladd and other greats.
The greats of the world and sports including President Barack Obama, NFL Commissioner Roger Goodell and everyday people from all walks of life.
And the beat continues!
Yes, the late Ron Rooney's work helps--even up until today!
Writer Jarrett Bell added; "Now a president (Barack Obama) shows up to celebrate Rooney's life. Imagine that! Unbelievable!"
Serena Williams is expecting her first little Wimbledon doll champion! Serena is the winner of her 123rd Grand Slams this will make her little doll No.124. This will be the 35-year olds first child. Serena announced in December she was engaged to Alexis Ohanian, co-founder of Reddit.
It doesn't appear Tiger Woods will be playing anymore golf soon because continued back problems. However, Tiger is designing Payne Stewart's Valley on Missouri land owned by Bass Pro Shops founder Johnny Morris.
And the beat continues!
The New England Patriots' Super Bowl Champions' visit to President Donald Trump's White House was subdued nor as joyful as the two time the Patriots' visited the White House during President Barack Obama administrations. What a difference these two hosts make!
UCLA's running backs coach DeShaun Foster says he has real confidence of his players. Reason; Many of them he recruited during his previous time as an assistant in Westwood.
Hall of Fame bound Derek Jeter and former Florida Governor Jeb Bush have teamed up to buy the Miami Marlins, this will probably be MLB' integrated ownership duo.
And the beat continues!
Shakur Stevenson hopes to follow in the foot stepths of Sugar Ray Robinson into both an Olympic and World Champion. Antonio Leonard says he saw Floyd Mayweather in him when he first saw "the 19-year old Shakur—his IQ is the highest I've ever seen,"

Coach Tyronn Lue of the Cavs took a 3-0 report card into the fourth and final game of the first round of the series with a 119-114 win!