Here Are Five Films to Follow From The Tribeca Film Festival
Sameer Rao/ Colorlines | 4/27/2017, midnight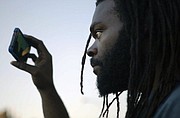 The 15th annual edition of the New York City film festival will screen hundreds of narrative features, documentaries, shorts and other visual media projects through the end of the month. Here are just a few of the films you should see asap.
Film creators, critics, actors and aficionados of all backgrounds descend on Manhattan today (April 19) for the 15th annual Tribeca Film Festival.
The films, shorts, series, virtual reality experiences and other visual media screening at the festival through the end of April include numerous projects that tackle racial justice, including several documentary films that center criminal justice reform, police violence and activism. The festival will also premiere some narrative films with leading casts of color.
Here, five must-see film entries, with descriptions quoted from the festival's guide:
"Copwatch"—The true story of We Copwatch, an organization whose mission is to film police activity as a nonviolent form of protest and deterrent to police brutality. Around the country, a network of regular people take up cameras to bear witness to police actions and hold law enforcement to accountability. Director Camilla Hall profiles several We Copwatch members, including Kevin Moore, who filmed the arrest of Freddie Gray in Baltimore, and Ramsey Orta, the man who filmed Eric Garner's fatal Staten Island arrest in the devastating video that has galvanized protestors and activists nationwide
"Saturday Church"—Working single mother Amara leaves her two boys at home with domineering Aunt Rose, and Rose has her eyes on the older son, Ulysses. Stealing nylons, wearing his mother's shoes: Ulysses is just beginning to explore his identity and sexuality. When Rose demands an end to it, the boy escapes to the Village and discovers both supportive friends and the inspiration to become exactly what he is feeling inside. The problem: Rose is waiting back home.
"True Conviction"—There's a new detective agency in Dallas, Texas, started by three exonerated men with decades in prison served between them who look to free innocent people behind bars. "True Conviction" follows these change-makers as they not only try to rebuild their lives and families, but also attempt to fix the criminal justice system.
"The Death and Life of Marsha P. Johnson"—Academy Award-nominated director David France's ("How to Survive a Plague") new documentary centers on self-described "street queen" Marsha P. Johnson, legendary fixture in New York City's gay ghetto, who along with fellow trans icon Sylvia Rivera, founded Street Transvestites Action Revolutionaries (S.T.A.R.), a trans activist group based in the heart of NYC's Greenwich Village. Mysteriously, Marsha was found floating in the Hudson River in 1992. At the time, the NYPD pegged her death as a suicide, a claim that Marsha's comrades have always firmly rejected. Structured as a whodunit, with activist Victoria Cruz cast as detective and audience surrogate, "The Death and Life of Marsha P. Johnson" celebrates the lasting political legacy of Marsha P. Johnson, while seeking to finally solve the mystery of her unexplained death.
"LA 92"—Few images are seared into the American consciousness like the beating of Rodney King at the hands of four White Los Angeles police officers and the riots after the officers' acquittal in the spring of 1992. The unrest, sparked by a verdict many viewed as yet another example of judicial indifference to law enforcement's harassment of Los Angeles's African-American population, lasted for six days. The widespread looting, arson and assaults were all captured by TV news and broadcast to a shocked nation. By the time the violence was quelled, more than fifty people had lost their lives and over $1 billion dollars in damage had been done to South Central Los Angeles and the surrounding neighborhoods. Twenty-five years after the verdict, Academy Award-winning directors Dan Lindsay and T.J. Martin ("Undefeated") draw on archival news images and unseen footage to craft an in-depth portrait of those riots and the tempestuous relationship between Los Angeles' African-American community and those charged with protecting it.
Click here for more information on the festival.