Earth Day 2017: Ex-Environmental Justice Chief for EPA on Using Your Power to Save the Planet
By Sharee Silerio /The Root | 4/27/2017, midnight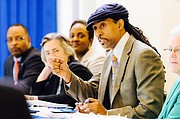 Long before Mustafa Santiago Ali helped establish one of our nation's most esteemed federal programs, he was a child raised in a Baptist and Pentecostal church. He was born in a family passionate about social justice and civil rights, and his faith laid the foundation for a life of giving back.
"It's really important that you do what you can to help others. And then with the injustices that we sometimes see, we're like, 'Well, somebody has to do something about this.' You just have to decide if it's going to be you, in partnership with others, to help try and make change," he told The Root.
In the early 1990s, Ali was a founder of the Environmental Protection Agency's Office on Environmental Justice. After 24 years with the agency, he resigned in protest of President Donald Trump's budget proposal, which included a decrease in EPA funding of $2.6 billion.
In a two-and-a-half-page resignation letter, he wrote:
There are still many disproportionate environmental impacts occurring in our most vulnerable communities. ... Communities of color, low-income communities and indigenous populations are still struggling to receive equal protections before the law.
The budget cuts would essentially shut down the environmental-justice program, affecting the agency's efforts to ensure that all Americans have clean air, water and land.
"It's going to be devastating to families across the country. It just doesn't make any sense. We know the impacts of air pollution. We know the impacts of asthma. We know the devastating effects of lead on a community," Ali said. "For them to be rolling back regulations that lots of people worked on sends a message that they don't care about families; they don't care about children; they don't care about the future."
He said that a cut in the EPA budget will cause an increase in cases like Flint, Mich., including illnesses and conditions like asthma or cancer. This will result in more visits to the emergency room, which will require access to health care, and trigger a domino effect.
"Unfortunately, folks are going to take off time from work to take their kids to the emergency room. So then there's the economic impact," he said. "And unfortunately, there will be more folks, especially children, who will probably pass away because of some of the choices that are being made."
Ali cited a study presented by the American Association for the Advancement of Science last year, which indicated that more than 5 million people around the world die from air pollution every year, including nearly 80,000 people in the United States.
"I can go across the country and cite numerous communities who have really been doing all that they can and doing all the right things to be in a better place. And, now, we're sort of pulling the rug out from underneath them," Ali said. "These communities have been surviving for years trying to get traction. And we need to be laser-focused on moving our most vulnerable communities from surviving to thriving."