NIH Study: Examines How Exercise May Lower High Blood Pressure in African Americans
TNJ | 4/20/2017, midnight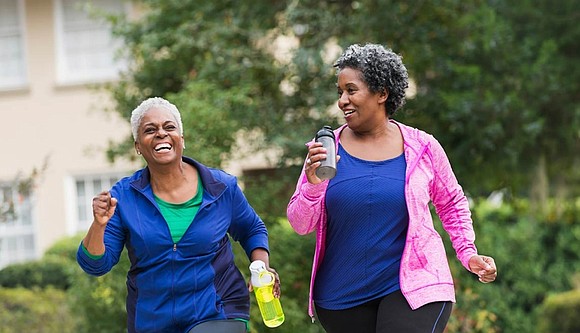 "We've long known that exercise is an important part of controlling blood pressure," said Redmond. "Now, thanks to this invaluable finding from the Jackson Heart Study, we can say that the same applies to African American men and women. It's a potentially lifesaving message that everyone needs to follow."


Redmond acknowledged that getting people to boost their exercise levels weekly can be a challenge. Barriers to establishing an exercise routine include lack of access to parks and streets that are perceived as safe; competing demands for time (such as work, child care responsibilities and commuting time); and for many women, concerns about hair care.


But you don't have to run a marathon, Redmond pointed out. For now, including moderate or intensive exercise as part of a daily routine of good self-care is a great start. For example, brisk walking, stair walking, cycling and recreational tennis all meet standards for moderate activity when done for at least 10 consecutive minutes at a time at a pace that gets you breathing harder and your heart beating faster, Redmond said. You don't have to do all your exercise at once: Exercising 10 minutes at a time, three times a day adds up to 30 minutes a day. Vigorous exercise, including activities such as jogging, aerobics and swimming, as well as competitive sports such as basketball, volleyball and soccer, meet those standards, too.


Other exercise options include taking a brisk walk around the neighborhood (or an indoor shopping mall in bad weather), working out to an exercise DVD or joining a fun-filled exercise group, such as a Zumba® or Jazzercise® class or a running group. Do what works best for your lifestyle and budget. If the goal is to help lower blood pressure, exercise that gets the heart rate up is critical, Redmond said.
So don't forget to exercise regularly. It could change – or even save – your life.