Here Are Five Free Ways to Relieve Stress & Relax
4/20/2017, midnight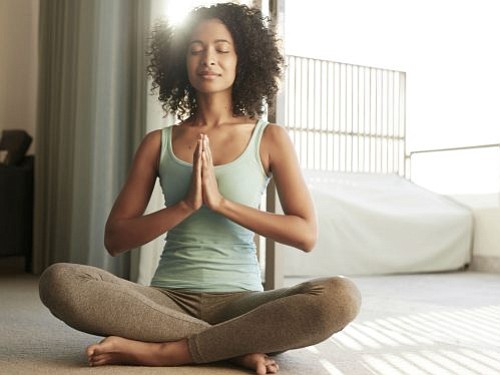 There's an abundance of retreats, books, spas and pricey gadgets you could invest in to relieve stress, but you can also unwind without spending a dime. From free relaxation apps to a good stretch at your desk, here are five cost-free ways to relax and get rid of stress.
MEDITATION
For decades, researchers have studied the benefits of meditation. People who practice meditation experience a notable decrease in anxiety and depression and an increase in feelings of well-being, optimism, relaxation and awareness, according to personal growth website LiveAndDare.com, which compiled data from more than 100 studies on meditation.
Furthermore, it doesn't take long to reap the benefits of meditation. People who participated in an eight-week meditation program showed measurable changes in memory, empathy and stress, according to research by Massachusetts General Hospital.
There are many forms of meditation to choose from based on your taste and level of commitment, and just as many free or low-cost resources. Sabina Hitchen, a small business educator at SabinaKnows.com, said she swears by the Oprah & Deepak 21-Day Meditation Experience.
"I live for their 21-Day Meditation courses. I do them every a.m., and I choose courses that are focused on what I'm in need of at the moment," said Hitchen. "With introductions by Oprah and Deepak leading you through them, they're like hitting a refresh button for your brain." Not every meditation is free, but Hitchen said that registered users are periodically offered access to free series.
"Relieving stress is important to maintain everyday health," said Amy Rice, who is an app pro and the gadget expert at electronics reseller Gazelle.com. "The Stop, Breathe & Think app not only promotes meditation, but also mindfulness and compassion. Another one made for those who find it challenging to make some time for themselves is the Headspace app, which is meant to train users to be more mindful for 10 minutes a day."
YOGA
Yoga, which is regarded as another form of meditation, can be a good option for people who struggle with sitting still. A study of 52 women found they experienced a decrease in anxiety and stress levels by taking two hot yoga classes per week, according to Medscape medical news.
"Yoga is a great stress reliever. You can take your yoga practice with you no matter where you are," said Nicole Kempka, studio manager of Yoga Six in Solana Beach, Calif. "Take a few deep breaths when you are feeling overwhelmed, or do a seated cat-cow to stretch the muscles in your upper back and shoulders."
The average price of a yoga class is $12, according to FitnessCostHelper.com. In metropolitan areas, the prices can be substantially higher. For example, at New York City's popular Jivamukti Yoga, single drop-in classes are $22.
However, there are plenty of free yoga classes on YouTube. "Yoga with Tim" and "Yoga with Adriene" are two channels with a lot of well-produced content, including practices of varying lengths and levels of difficulty, short how-to's and 30-day challenges.
BREATHING
We breathe all the time, so how can it help with stress management? It turns out that breathing mindfully can be very beneficial.