Fontana School Earns Praise for Fostering Music Education
4/20/2017, midnight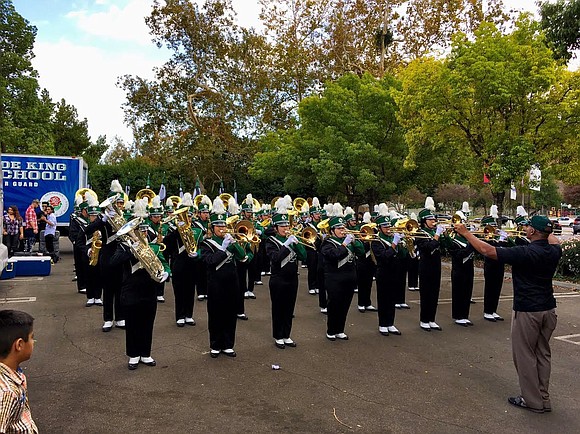 Kaiser High is one of 92 schools to receive 2017 SupportMusic Merit Award
Fontana, CA--Kaiser High School's pioneering efforts to provide students with high quality music education and widespread access to music learning opportunities was lauded by the National Association of Music Merchants (NAMM) Foundation, which awarded the Fontana Unified campus the 2017 SupportMusic Merit Award.
The award – given to 92 schools across the nation this year – is part of the Best Communities for Music Education program, which aims to highlight the top schools for music instruction in the United States.
Now in its 18th year, the awards program recognizes outstanding efforts by teachers, administrators, parents, students and community leaders who have made music education part of the curriculum.
Schools are evaluated based on funding, staffing of highly qualified teachers, commitment to standards and access to music instruction.
"Earning the award is a great testament to the strength of our program and to our students' talent," instrumental music director Anthony J. Allmond said. "This honor demonstrates that the pursuit of musical excellence is rewarding, and students can see that hard work and diligence will result in success."
Allmond oversees five ensemble music classes, which include marching band, concert, orchestra, jazz and a wind ensemble that is selected by audition. More than half of the 200 students enrolled are multi-instrumentalists.
Each music class maintains a rigorous performing schedule, with marching band competitions taking place from September to November, frequent holiday and special event concerts, and an annual festival performance.
"We are ecstatic to see our program recognized for setting the bar in offering a comprehensive music education to Fontana students," Principal Terry Abernathy said. "This would not be possible without the dedicated efforts of Mr. Allmond, our staff and the pool of gifted students who always make us proud."
Through music education, Kaiser has been able to actively engage students and the school community, Fontana Unified Superintendent Randal S. Bassett said.
"This award solidifies our view that music is an important and necessary part to having a well-rounded education," Bassett said. "As we embrace and foster music education in our schools, we are boosting our students' academic and personal successes. Congratulations to Kaiser High for creating a robust program in which our students can achieve."