The Continuing Scourge of Poverty, Hunger and Hopelessness in Rich America
Marian Wright Edelman | 4/20/2017, midnight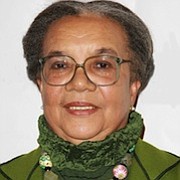 Washington, D.C.--A true revolution of values will soon cause us to question the fairness and justice of many of our past and present policies. On the one hand, we are called to play the Good Samaritan on life's roadside, but that will be only an initial act. One day we must come to see that the whole Jericho Road must be transformed so that men and women will not be constantly beaten and robbed as they make their journey on life's highway. True compassion is more than flinging a coin to a beggar. It comes to see that an edifice which produces beggars needs restructuring.
-- Dr. Martin Luther King, Jr.'s "Beyond Vietnam" speech, April 4, 1967
In March 1967 when I was working as a young civil rights lawyer for the NAACP Legal Defense Fund in Mississippi, I was asked to come to Washington to testify before the Senate Committee on Labor and Public Welfare's Subcommittee on Employment, Manpower, and Poverty about how the War on Poverty was working in the state. I told the committee I had become deeply and increasingly concerned about the growing hunger in the Mississippi Delta. The convergence of hostility towards Black citizens and workers involved in civil rights activities, development of chemical weed killers, farm mechanization, and recent passage of a minimum wage law covering agriculture workers on large farms had resulted in many Black sharecroppers being pushed off their near feudal plantations that no longer needed their cheap labor. Many displaced sharecroppers were illiterate and had no skills or income. Free federal food commodities like cheese, powdered milk, flour, and peanut butter were all that stood between them and hunger and malnutrition — even starvation. At the hearing, I invited the Senators to come to Mississippi and hear directly from local people about the crucial and positive impact the anti-poverty program was making and the state's actions to encourage people to leave. Four of the nine subcommittee members agreed to come: Senators Joseph Clark (D-PA), Jacob Javits (R-NY), Robert F. Kennedy (D-NY), and George Murphy (R-CA).
So, fifty years ago this month, on April 10, 1967, I testified alongside local community leaders at a follow up hearing held by the Senate subcommittee in Jackson, Mississippi, sharing again the desperate plight of hungry people. I urged the visiting Senators to go one step further and visit the Mississippi Delta with me to see and experience for themselves the hungry poor in our very rich nation, and to visit the shacks and look into the deadened eyes of hungry children with bloated bellies — a level of hunger many people did not believe could exist in America. "They are starving and someone has to help them," I said. Senators Robert Kennedy and Joseph Clark responded positively to my plea.
Early the next day we flew from Jackson to the Greenville airbase in the Mississippi Delta and drove from Greenville to Clarksdale, stopping in Cleveland guided by one of the great unsung heroes of the Civil Rights Movement — Amzie Moore. We visited homes where the Senators asked respectfully what each family had for breakfast, lunch, or dinner the night before. Robert Kennedy opened their empty ice boxes and cupboards after asking their permission. I watched him hover, visibly moved, on a dirt floor in a dirty dark shack out of television camera range over a listless baby boy with bloated belly from whom he tried in vain to get a response as he lightly touched the baby's cheeks. When we went outside again he asked the older children to clad in ragged clothes standing outside their shack "What did you have for breakfast?" They responded saying "We haven't had no breakfast yet," although it was nearly noon. And he gently touched their faces and tried to offer words of encouragement to their hopeless and helpless mothers.