2x Grammy Winning Arrested Development Brings Balance to Hip-Hop with New Single & Video "In 1 Day"
4/20/2017, midnight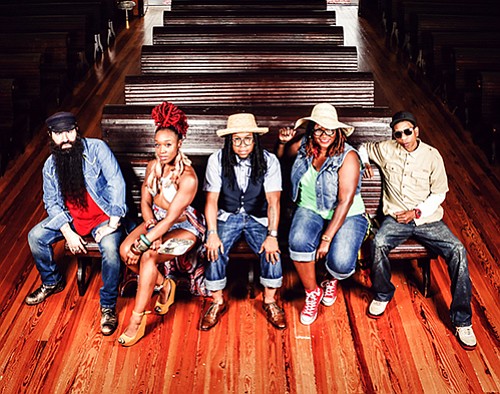 Nationwide — Arrested Development (AD) are true trailblazers within music. They first blew people's minds in 1991, championing hip-hop from the south while spreading a unique mixture of consciousness and musicality to the scene. Their southern style came before the releases Outkast and other southern rap movements. Lead vocalist, Speech's melodic rap style was prior to Bone Thugs n Harmony, Nelly or Drake, they were also among the first to have both men and women in the same hip-hop group. Awarded as one of the greatest hip-hop artists of all time by VH-1, Arrested Development always brought an alternative to gangsta rap lyrics while maintaining respect for their peers.
Their first album, 3 years, 5 months and 2 days in the life of… just celebrated it's 25th birthday on March 24th. Selling over 4 million albums (RIAA) they were awarded 2 MTV Awards (93), their debut song "Tennessee" was voted one of the "500 songs that shaped rock and roll" by the Rock and Roll Hall of Fame. AD won two Grammy awards (1993 – Best New Artist & Best Rap Single – Tennessee), Rolling Stone Magazine named them band of the year in 1992 and they were the first, and last rap group (thus far), to win the Grammy's coveted Best New Artist award.
Their second club smash, "People Everyday" (Metamorphosis mix) addressed the tension between ignorance & consciousness while bringing a reggae energy. Their biggest hit "Mr. Wendal" brought much needed attention to the plight of the homeless and the group gave half of that singles royalties to the National Coalition of the Homeless. The group was extremely proud to become recipients of both a Soul Train music award & NAACP image award (1993).
In 2017, they're back with an analyzation and celebration of black reality in America with their release of "In 1 Day" (Whole World Changed). This 4 minute and 22 second gem is stylistically laid back but hella funky. In the song, Speech blasts Republicans for being ignorant to the issues most Americans are struggling with. He says in his verse he's "looking for [woke] people to hang with". About being a 48 year old rapper in a millennial world, he says in the song that "he's a brand new car with a vintage shell". The group is headlining tours around the world from Europe, Africa, Asia, Canada, Australia and of course the United States. And something close to their hearts, is doing community outreach before their shows. (Outreach Example)