Shooter, Teacher, Student Killed at San Bernardino, School Shooting Identified
YESHA CALLAHAN/ The root | 4/13/2017, midnight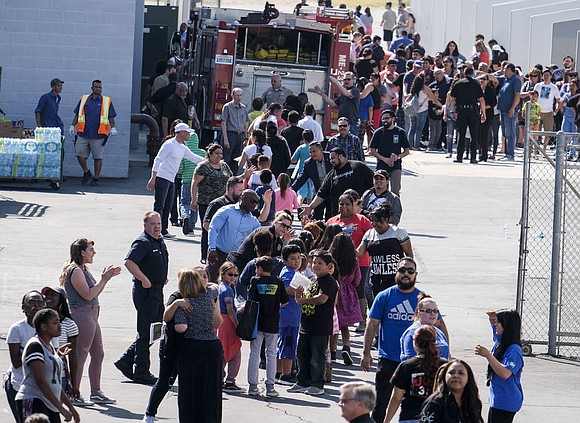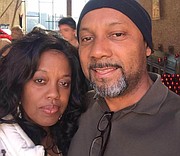 SAN BERNARDINO, Calif. (AP) — Students dove under desks when a man walked into his estranged wife's elementary school classroom and opened fire without saying a word, killing her and an 8-year-old student and wounding a 9-year-old before fatally shooting himself, authorities said.
Some six weeks earlier, 53-year-old Cedric Anderson was a newlywed calling his 53-year-old wife Karen Smith an "angel" in one of many social media posts professing his love.
San Bernardino police have said nothing of what might have motivated Anderson to open fire in the special-education classroom at North Park Elementary School on Monday.
"No one has come forward to say they saw this coming," police Chief Jarrod Burguan said, though Anderson had a history of weapons, domestic violence and possible drug charges that predated the brief marriage.
School district officials said classes at North Park would be canceled for at least Tuesday and Wednesday. Counselors were made available at a nearby middle school for students, family and staff.
The shooting came 15 months after a terror attack in San Bernardino that killed 14 people and wounded 22 others at a meeting of county employees. Husband-and-wife shooters Syed Rizwan Farook and Tashfeen Malik were later killed in a gunbattle with authorities.
Nine-year-old Marissa Perez said she got under a table as soon as she saw the gunman enter her classroom Monday.
"She keeps telling me 'My teacher got shot, my friend got shot,'" her mother, Elizabeth Barajas, said as she clutched her daughter's blood-stained sweatshirt.
Marissa said the shooter didn't speak as he began shooting. One of her friends was hit, she added, pointing to her abdomen.
What appears to be Anderson's Facebook page features many public declarations of love for Smith between statements of religious devotion before his last public post on March 15.
"She knows when to ignore me," Anderson said with a laugh in a short video posted Feb. 27. "Well, it makes a happy marriage."
Anderson had posted that he "loved being married to Karen Smith-Anderson!" and shared a photo of the two of them on March 4 during what he described as a date night.
The page also had several photos of his wedding to Smith and their honeymoon among the scenic red rocks of Sedona, Arizona.
But Smith left him about a month and a half after their late-January marriage, police and family members said.
Smith's mother, Irma Sykes, said her daughter had been friends with Anderson for about four years before they got married.
"She thought she had a wonderful husband, but she found out he was not wonderful at all," Sykes told the Los Angeles Times. "He had other motives," Sykes said. "She left him and that's where the trouble began. She broke up with him and he came out with a different personality. She decided she needed to leave him." She did not elaborate further.
Sykes said her daughter was a dedicated teacher who took up the profession about 10 years ago after her four children grew up.