Dr. Henry Louis Gates, Jr. Named Goodwill Ambassador in Global Fight For Rights of People of African Descent
Michael Harriot / The Root | 4/13/2017, midnight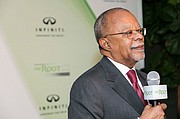 While we focus on the history and legacy of slavery in the United States, it is sometimes easy to forget the forced deportation of people of African Descent is a international, cross-cultural, shared experience that extends across borders. On August 4, in a first-of-its-kind ceremony at Harvard University, organizations dedicated to the recognition, justice and development of people of African descent named Dr. Henry Louis Gates, Jr., to a key role in their work fighting for the rights of the 200 million people living as Afro-descendants in the Americas.
Named "Goodwill Ambassador for the Rights of People of African Descent in the Americas," Gates' work as a historian and advocate will serve as an integral part of the United Nations' international effort to promote and protect the human rights of people of African ancestry. "His work has widened the acceptance of African American and African Diasporic studies, and has given it more recognition as a serious field of study" said Louis Alamgro, Secretary General of the Organization of American States.
In 2014 the United Nations General Assembly passed Resolution 68/237 proclaiming 2015-2024 as the "International Decade For People of African Descent," urging member countries and civil society to "join together with people of African descent and take effective measures for the implementation of the program of activities in the spirit of recognition, justice, and development." The Organization of American States (OAS)—comprised of the 35 independent countries in Latin, North and South America—will join with Harvard University's Hutchins Center for African & African American Research and its Afro-Latin American Research Institute to realize the goals of the International Decade.
Gates' work in furthering the cause of African and African American history, research and rights spans five decades and extends around the world, including his role as Director for the Hutchins Center, the PBS television series Finding Your Roots and founding The Root. In 2013, Gates wrote, hosted and executive-produced the Emmy-nominated documentary series, The African Americans: Many Rivers to Cross, which also earned the Peabody Award and an NAACP Image Award. Professor Gates has served as director of Harvard's Hutchins Center (formerly the W. E. B. Dubois Institute For African and African American Research) since 1991. He chaired the college's Department of Afro-American Studies for 15 years, transforming it into the Department of African and African American Studies—now a full-fledged doctoral program.